LHS Homecoming Week is Sept 27 - Oct 1, 2021. Here are the spirit week daily themes.

Senior students planning to pursue further education and their parents are invited to attend a FAFSA Workshop night put on by Mitzi Suhler from Sterling College. FAFSA will be completed at this event so make sure to come prepared by completing your FSA ID at least 3 days in advance and bringing a computer and financial information. The student's computer might be easiest since it should already be connected to the school's WiFi. See flier for details. Contact Miss Farmer with questions (
cfarmer@usd405.com
). Estudiantes Seniors que planean seguir su educación y sus padres son invitados a atender un taller de FAFSA que es dado por Mitzi Suhler del Colegio de Sterling. FAFSA será completado en este evento así que venga preparado con su ID de FSA completado 3 días antes y trayendo una computadora e información financiera. La computadora del estudiante será la mejor ya que ya está conectada al WiFi de la escuela. Vea el volante para más información. Contacte a Miss Farmers con cualquier pregunta (
cfarmer@usd405.com
).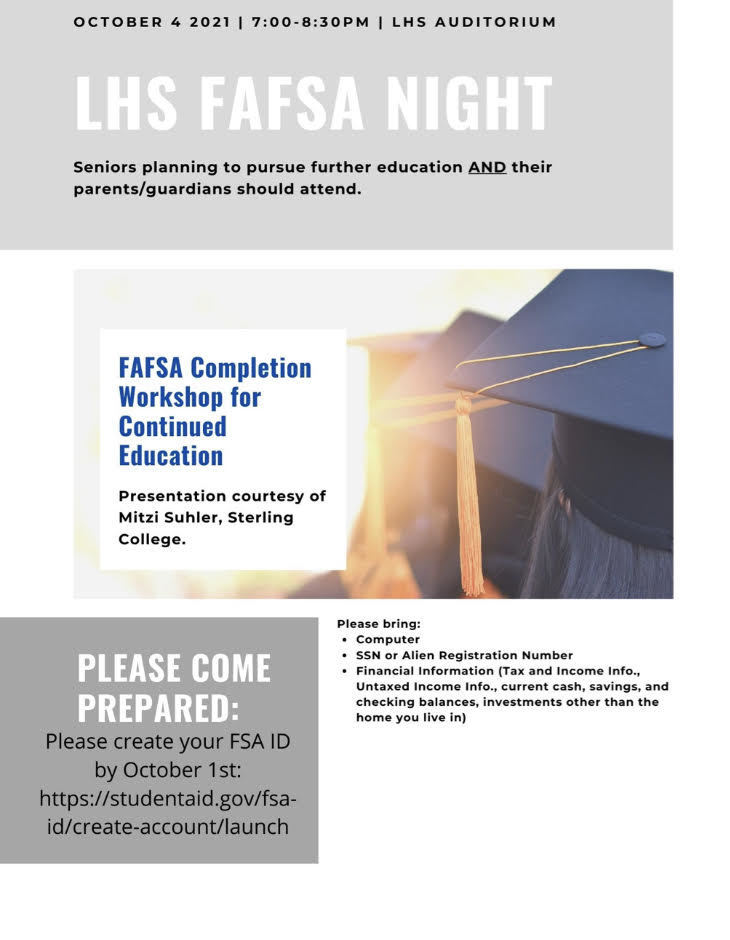 LHS JV Tennis Where: SVHS Girls Tennis JV Invitational Date: Thursday, September 23, 2021 Time: 3:00 – please plan to arrive by 2:30 for warm-up and brief coaches meeting. Locations: SVHS Tennis Complex – 1 Viking Blvd, Lindsborg, KS Teams: Abilene, Ellsworth, Haven, Hoisington, Lyons, Sacred Heart, and Smoky Valley.

LHS/LMS Cross Country Classic WHERE: LHS Campus WHEN: Tuesday, Sept 28 TIME: 4:00 PM The meet will run as follows: 4:00 p.m. Middle School 7th boys and girls(10 medals each race) ***We will be running 1 mile in the 7th grade division*** 4:25 p.m. Middle School 8th boys and girls(10 medals each race) 4:40 p.m. Girls JV 5K race (10 medals) 5:10 p.m. Boys JV 5K race (10 medals) 5:40 p.m. Girls Varsity 5K race (15 medals) 6:10 p.m. Boys Varsity 5K race (15 medals) 6:40 p.m. Presentation of team awards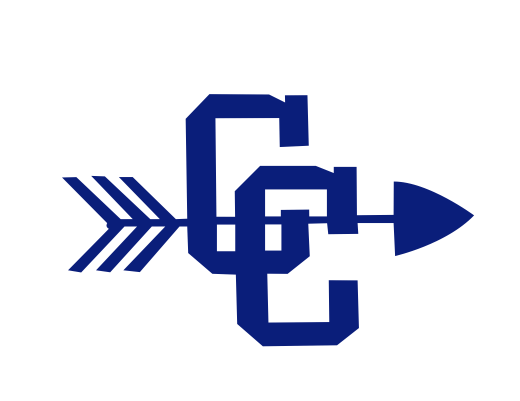 LHS JV Tennis WHERE: Ellsworth WHEN: Monday, Sept 27 TIME: 3:00 PM TEAMS: Ellsworth, Abilene, Chapman, Hillsboro, Lyons, Sterling, Trego LOCATION #1 Singles & Doubles - EHS Courts across from Krizek Park #2 Singles & Doubles - Krizek Park Courts


Lyons Varsity Volleyball Tournament WHERE: Lyons TEAMS: Lyons, Ellinwood, Ellsworth, Ell-Saline, Kingman, Little River, SE of Saline and Sterling DATE: Saturday, September 25, 2021 TIMES: First round matches will begin at 9:00 a.m. and following rounds will begin as soon as courts are available. Each team will have a 20-minute warm-up before their first match and a 10-minute warm-up thereafter.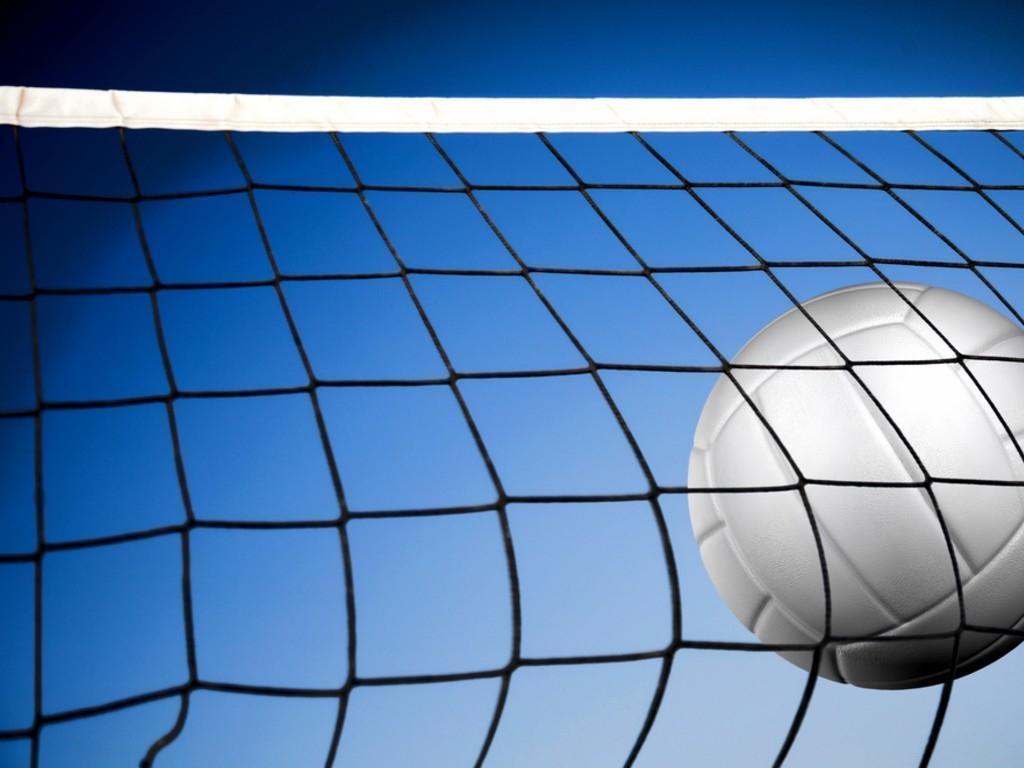 LMS Volleyball vs Ellinwood WHERE: Lyons WHEN: Tuesday, Sept 21 The order of play will be as follows: Volleyball: 4:30 pm 7 th Grade; followed by 8 th Grade; followed by 2 C games (2 courts)

LHS Volleyball WHERE: Haven WHEN: Tuesday, Sept 15 TIME: 5:00 PM Game Times: 5:00 - Haven vs. Lyons - V/JV/C 6:00 - Hesston vs. Lyons - V/JV/C 7:00 - Haven vs. Hesston - V/JV/C V - East side of the HS Gym JV - West side of the HS Gym C - MS Gym Court Location: Haven High School Gym Located at 400 E. 5th Parking: Guests should park in the main parking lot just east of Haven High School.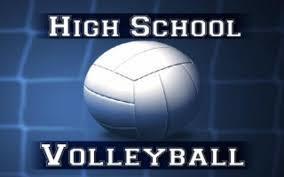 LHS C-Team Volleyball Tournament WHERE: Hesston WHEN: Thursday, Sept 16 TIME: 4:00 PM POOL A – HESSTON 1, HILLSBORO, LYONS, REMINGTON POOL B – HALSTEAD, HESSTON 2, INMAN, SMOKY VALLEY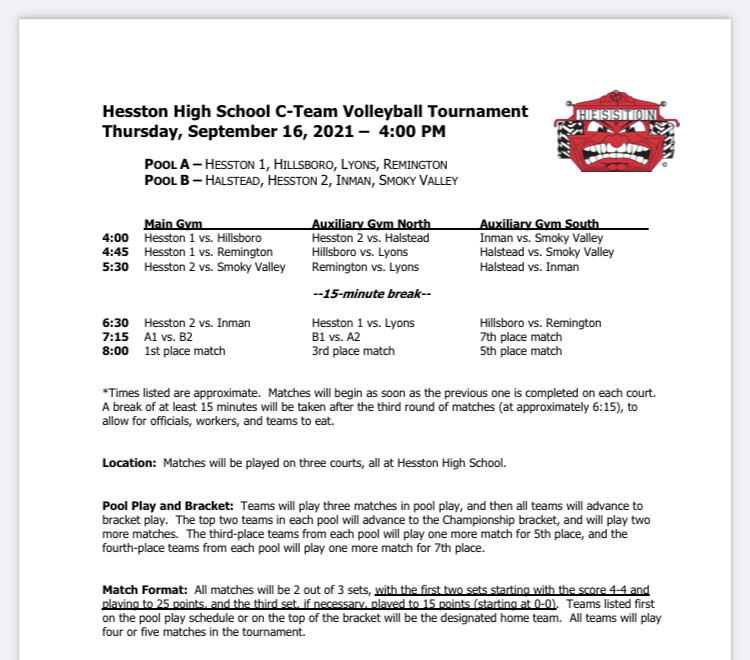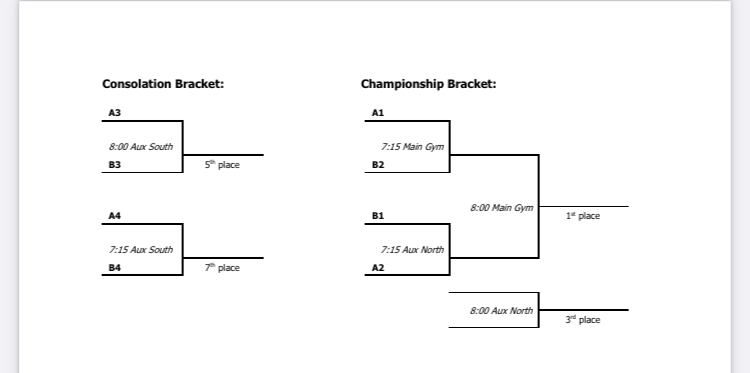 LHS/LMS Cross Country WHAT: Abby Trapp-Prescott Cross Country Classic WHEN: Thursday, September 23rd, 2021 TIME: 3:30 PM (No one on the course before 2:30 PM) WHERE: Larned Country Club Golf Course, 681 E. 14th St. RACES: 3:30 7th Grade Boys and Girls 1 mile 3:45 8th Grade Boys and Girls 2 mile 3.1miles/5K - Fr/So and Jr/Sr divisions for scoring. Again this year we are going to attempt to run ALL girls together in one race and ALL boys together in one race. 4:15 All high school girls (divisions will score separately) 4:50 All high school boys (divisions will score separately)

LHS V-Football WHERE: TRINITY CATHOLIC JR/SR HIGH SCHOOL WHEN: Friday, Sept 24 LOCATION: 1400 East 17 th Hutchinson, Kansas TIME: 7:00 pM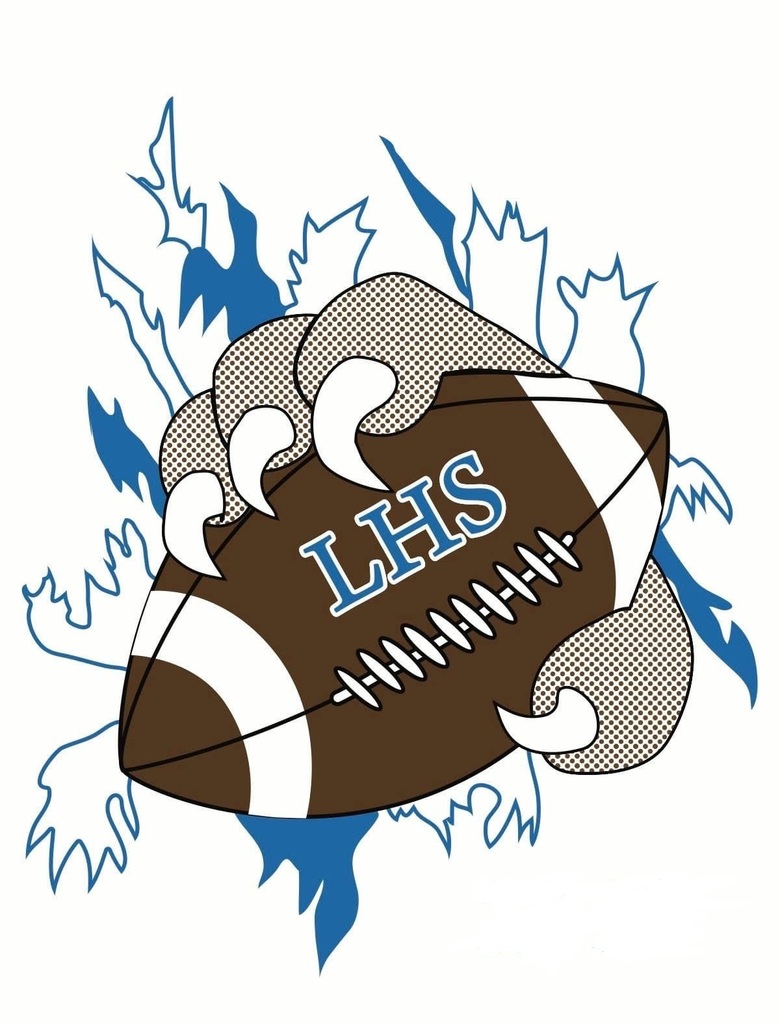 LHS Volleyball at 15th Annual Marion Spikefest Tournament bracket for Saturday, Sept 18 starting at 9:0o AM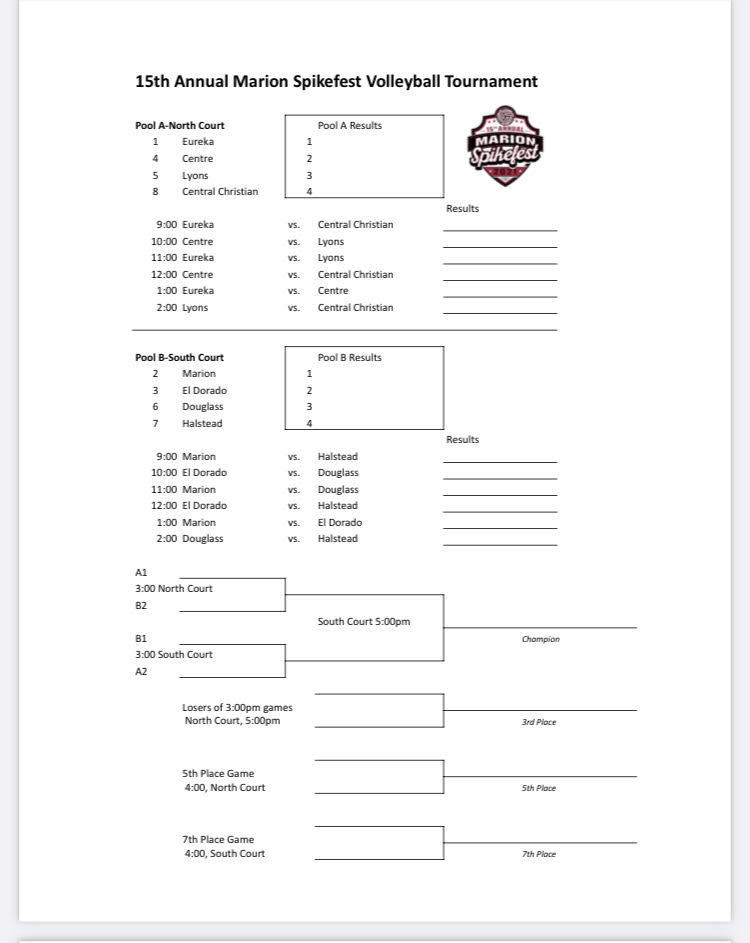 Lyons vs Nickerson Football on Ad Astra Radio KSKU 94.7.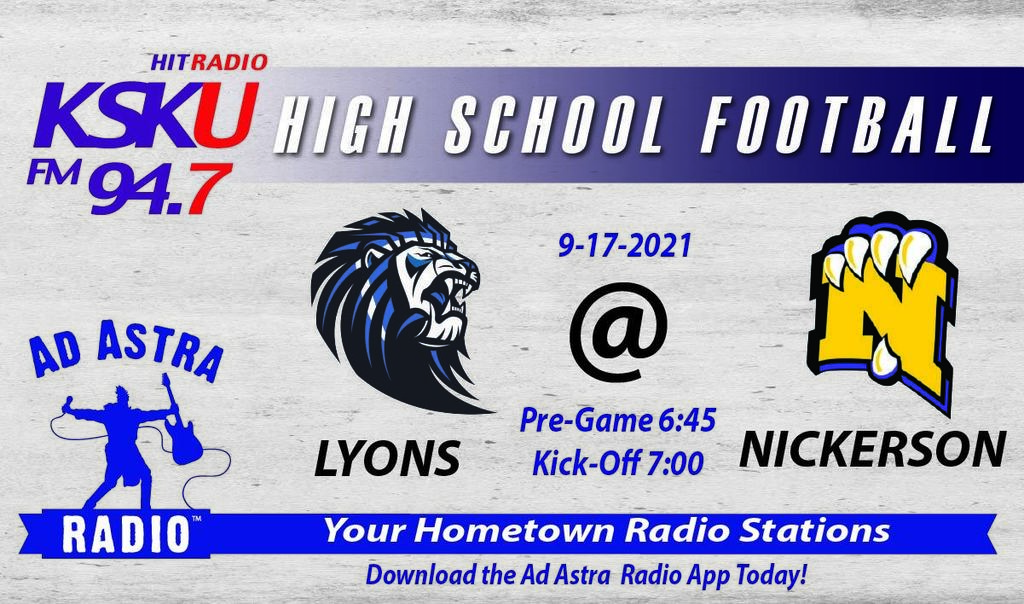 7th graders will be hosting a homecoming dance for middle school students. There will be music, dancing, and games. Drinks and snacks will be available for purchase. The proceeds from this dance will go to your class account to fund parties, field trips and buy materials. The dance is scheduled for the night of Friday, Oct. 1st in the middle school gym and foyer. This dance will start immediately after the high school football game is over and go until 11:00 pm. Doors will NOT be open before the game is over. All students MUST enter through the front LMS doors and not through the high school. Entrance to this event is $3 to be paid at the door. To be eligible to attend this dance, students MUST 1. be passing all classes 2. have no missing work 3. have had no in-school or out of school suspensions since the beginning of the year Eligibility will be assessed at 3:30pm on Wednesday, September 29th. If a student is not eligible at that point, they will not be admitted to the dance Friday. *(when students ask) cellphones will be allowed at the dance. * If students have any further questions, please come talk to Mrs. Hansen.

The order of play for tonight's JV and C team LHS Volleyball Tri has changed: HIGH SCHOOL GYM - North Net 5:00 - Lyons vs Hillsboro 6:00 - Hillsboro vs Smoky 7:00 - Lyons vs Smoky HIGH SCHOO GYM - South Net 5:00 - Smoky vs Hillsboro 6:00 - Hillsboro vs Lyons 7:00 - Lyons vs Smoky Middle School Gym: C-Team/Freshman 5:00 – Lyons vs Hillsboro 6:00 – Lyons vs Smoky Valley 7:00 – Smoky Valley vs Hillsboro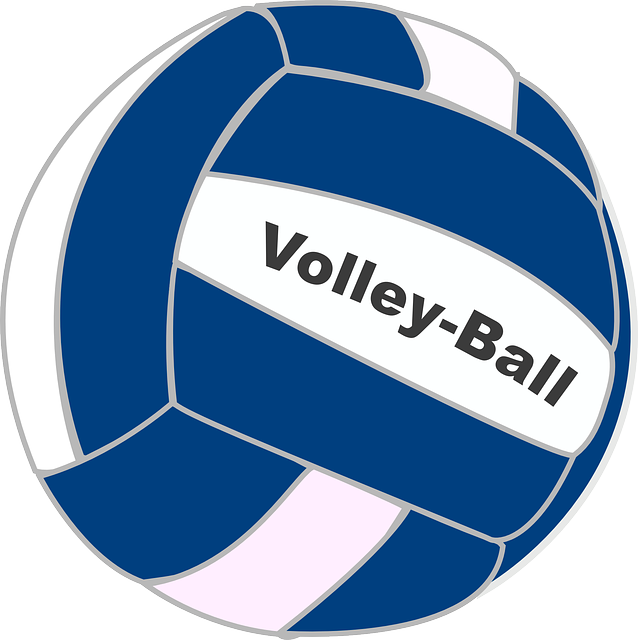 The St. John XC Meet (originally Thursday, Sept 16) has been rescheduled for Monday, September 20th @ 4:00 pm at the Stafford Country club.


LMS Volleyball (Not on School Calendar) WHERE: Chase Middle School WHEN: Monday, Oct 11 TIME: 4:00 PM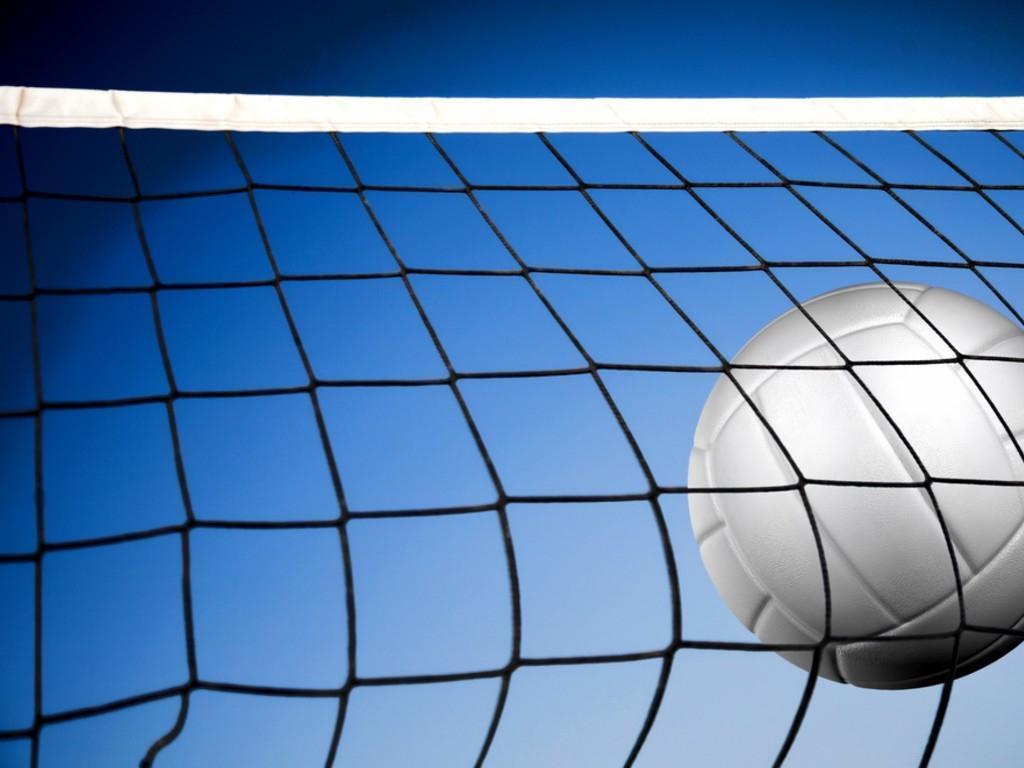 Reminder: LHS V-Volleyball TRI on Tuesday, Sept 14 starting at 5:00 PM

LHS Varsity Football WHERE: Nickerson WHEN: Friday, Sept 17 TIME: 7:00 PM LOCATION: Nickerson High School 305 South Nickerson Street Admission: $5.00 Adults $4.00 K-12 Children CKL passes accepted Live streaming- nfhs website- subscription required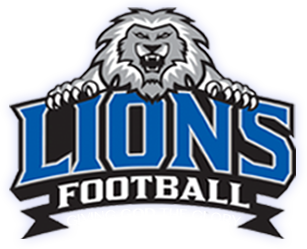 LHS Weekly Schedule Sept 13-18, 2021