LHS Track Athletes, turn in your uniforms and sweats anytime this week. Coach Bowers will be at the high school from 8-12 daily.

FFA May Newsletter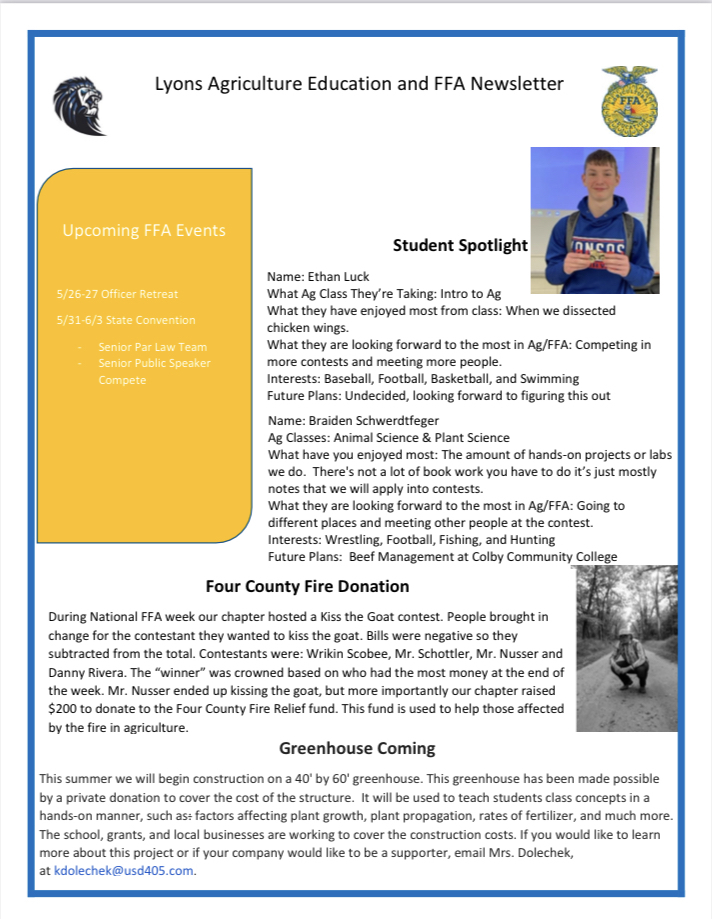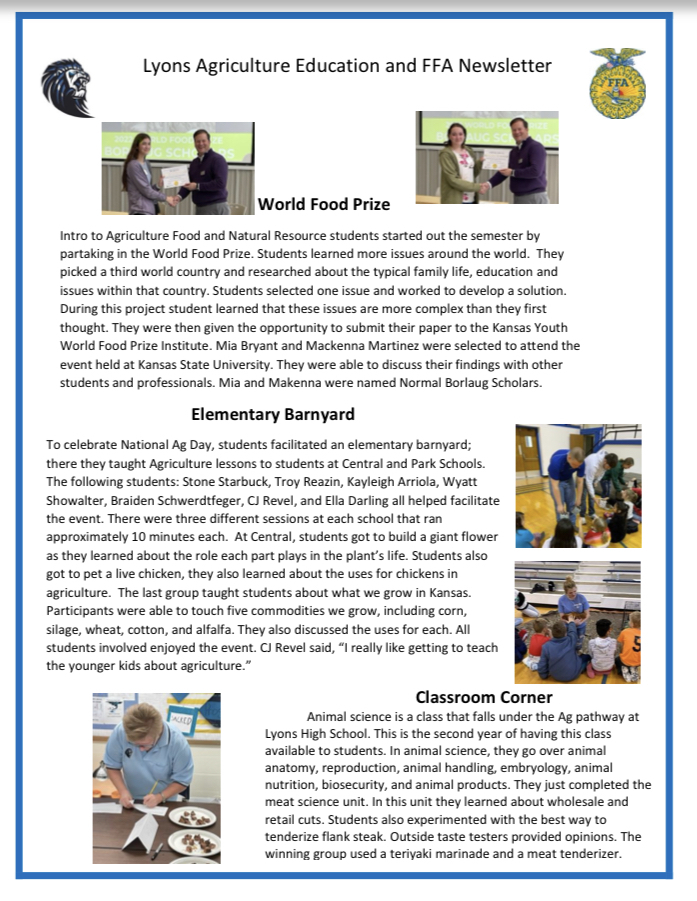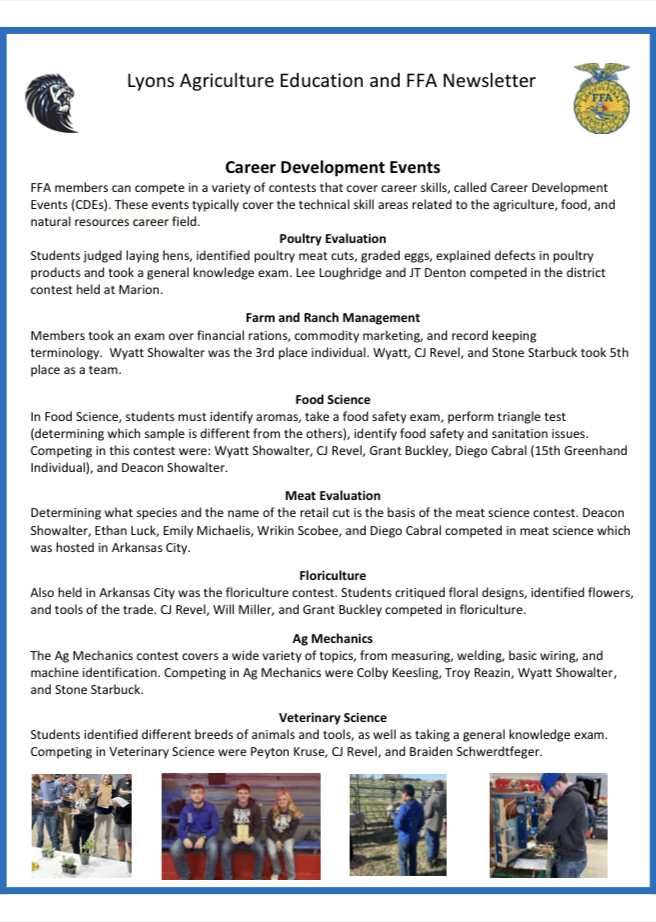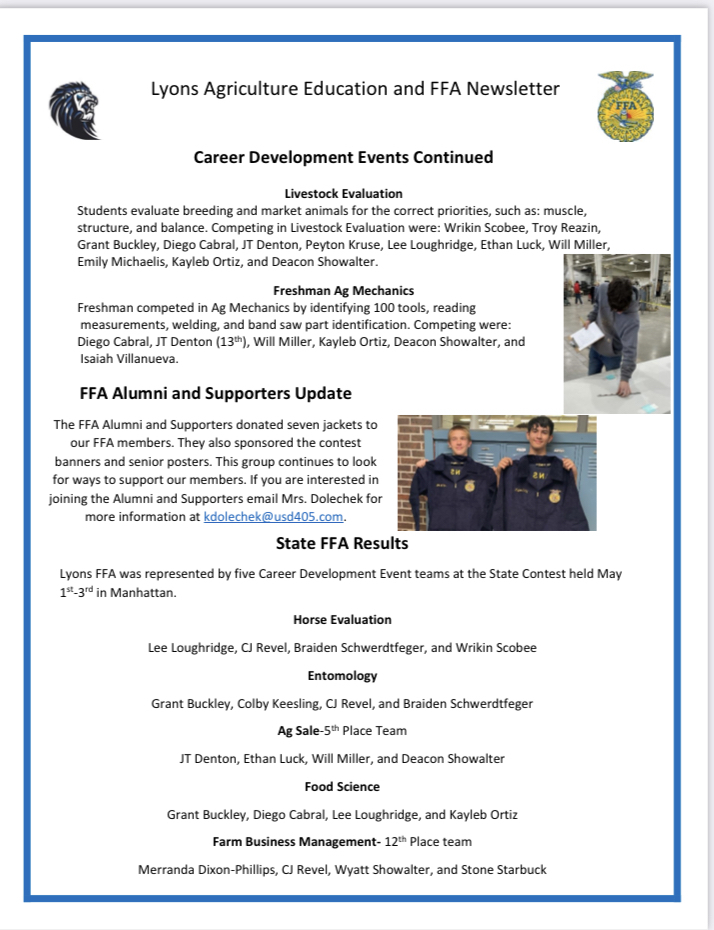 STATE BOUND!!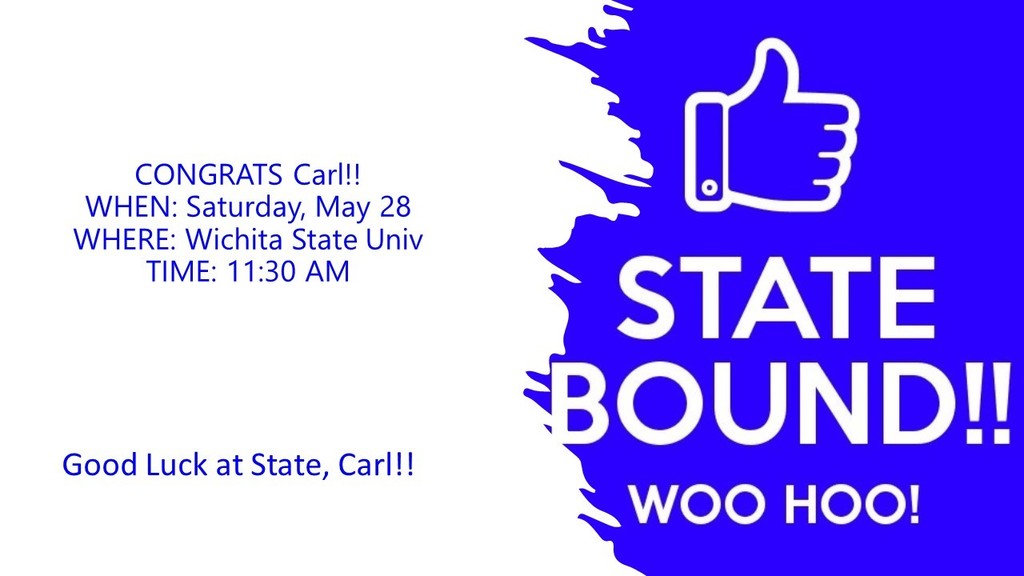 Regional Campion High Jump State Bound - He will compete: WHEN: Saturday, May 28 WHERE: Wichita State Univ TIME: 11:30 AM

Summer School RCLC/LHS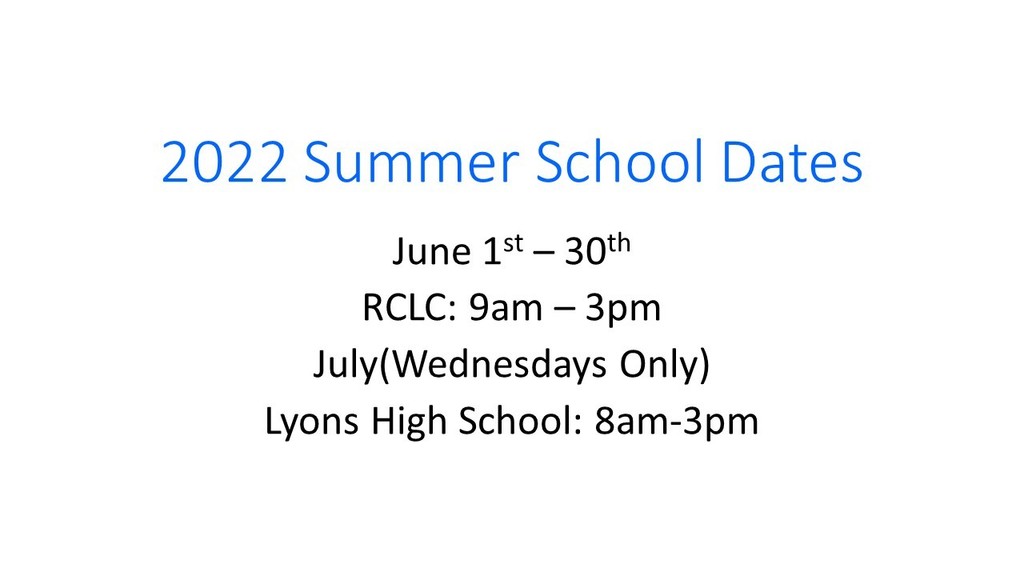 3A State Golf Tournament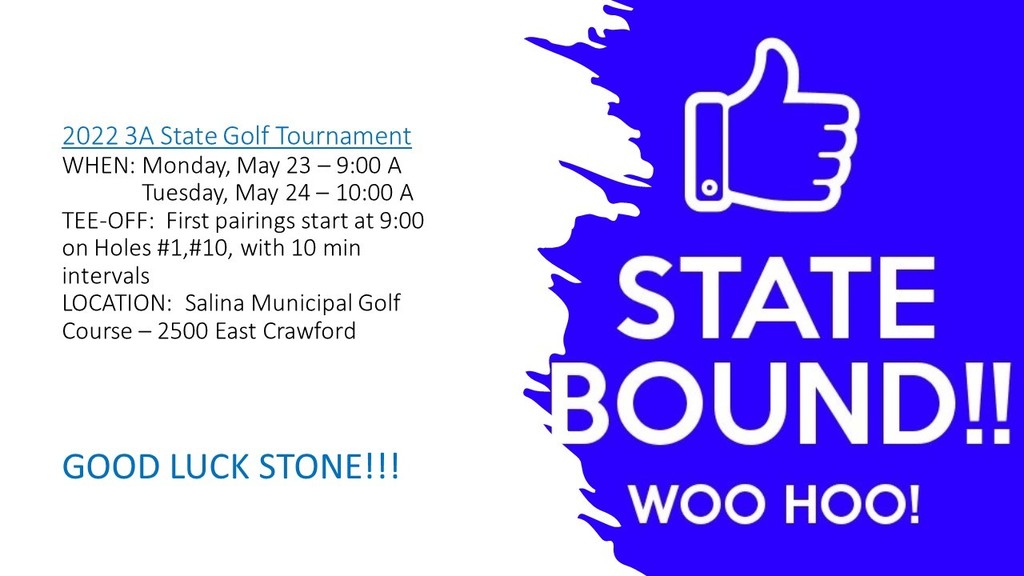 McPherson Regional. McPherson 11. Lyons-Sterling 1

​The Underclassmen Awards time has been changed to 8:15AM on Wednesday, May 18. La hora de los Premios Underclassmen se ha cambiado a las 8:15 a.m. del miércoles 18 de mayo.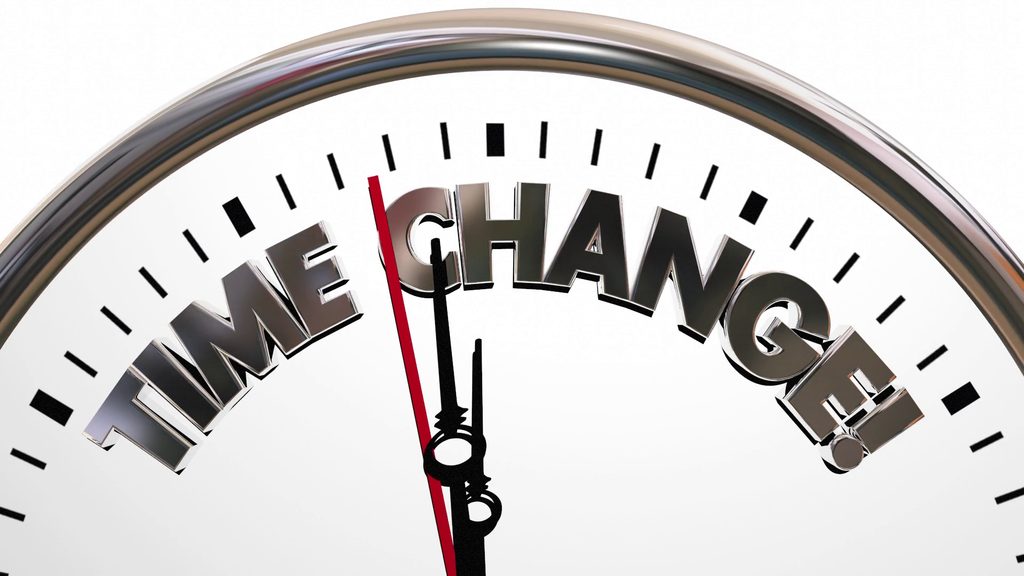 Congrats!!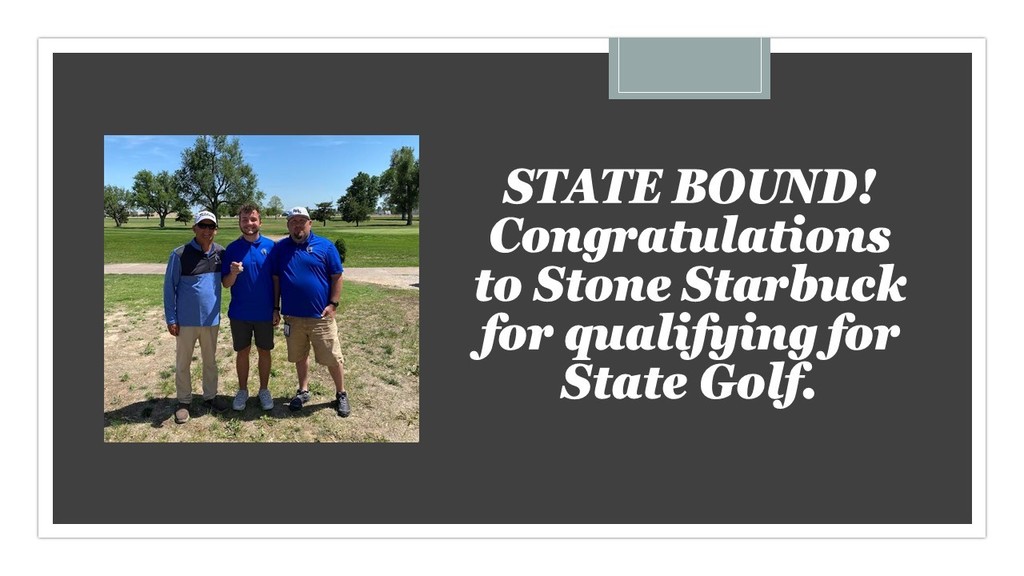 Thank you, Lyons Pharmacy, for supporting our students.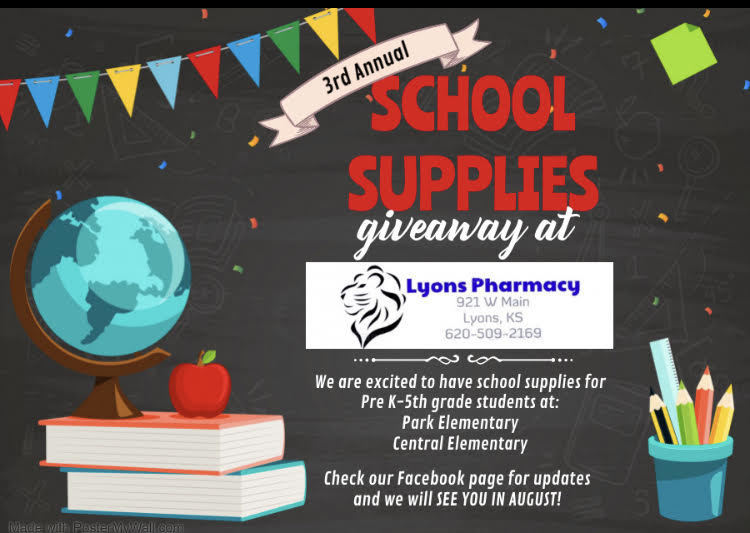 The Lyons Lady Lions were defeated 11-1 by Haven today at the 3A Regional Softball Tourney in Cheney

LHS Baseball Regional vs Ulysses WHERE: McPherson WHEN: Tuesday, May 17 TIME: 2:00 PM Varsity Baseball-Field C (Home team will occupy 3rd Base Dugout) 2:00pm Ulysses (H) vs. Lyons/Sterling (A) 4:00pm McPherson (H) vs. Rose Hill (A) 6:00pm Championship (Higher Seed will be Home Team) Location/Parking/Additional Information Baseball and softball games are played at Grant Sports Complex located at 1800 North Main Street in McPherson. Parking is located in the large lot west of Eisenhower Elementary School.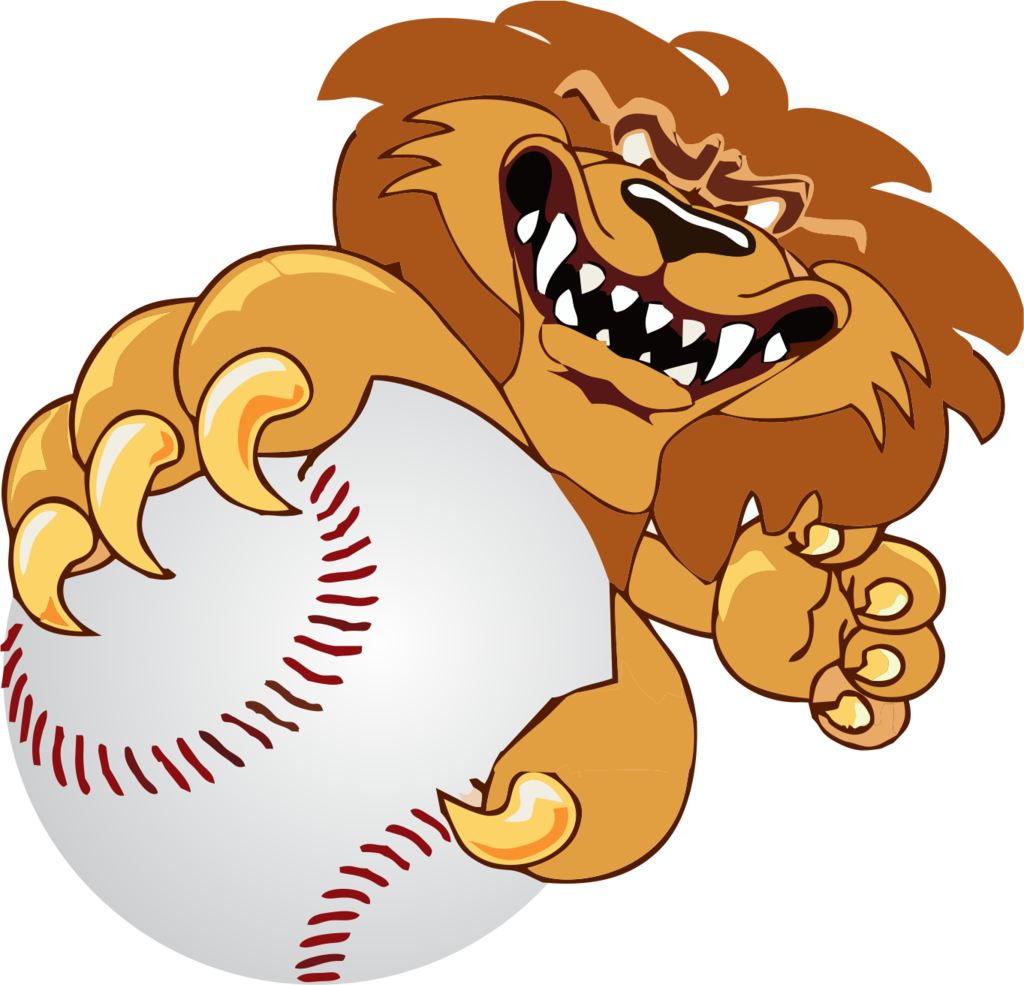 Reminder: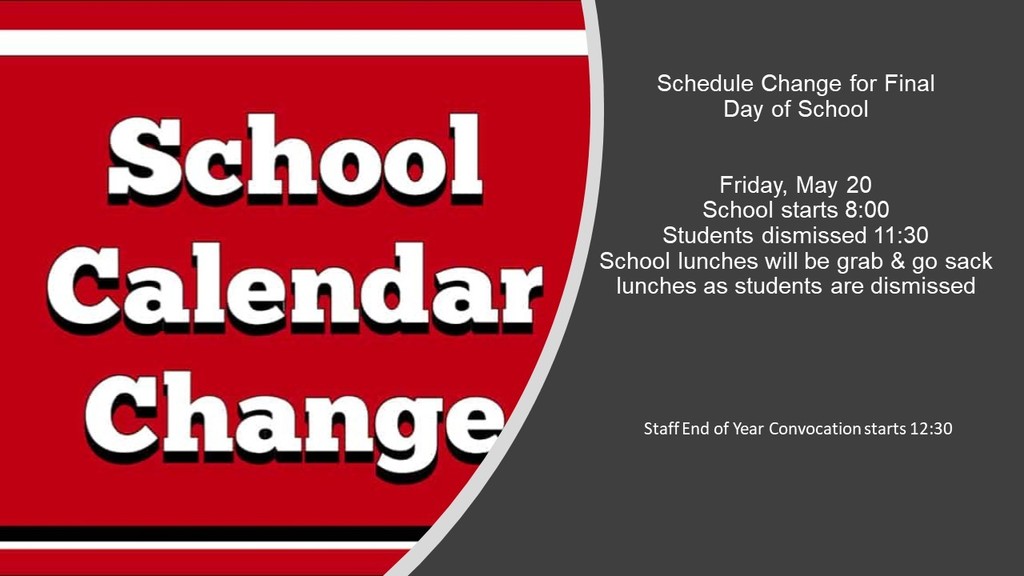 LHS Softball Kingman Regional WHERE: First and second round played at Cheney. Game 1 is Lyons vs Haven WHEN: Monday, May 16 (GAME 1) TIME: 3:00 PM If we win we will play 25 minutes after game 2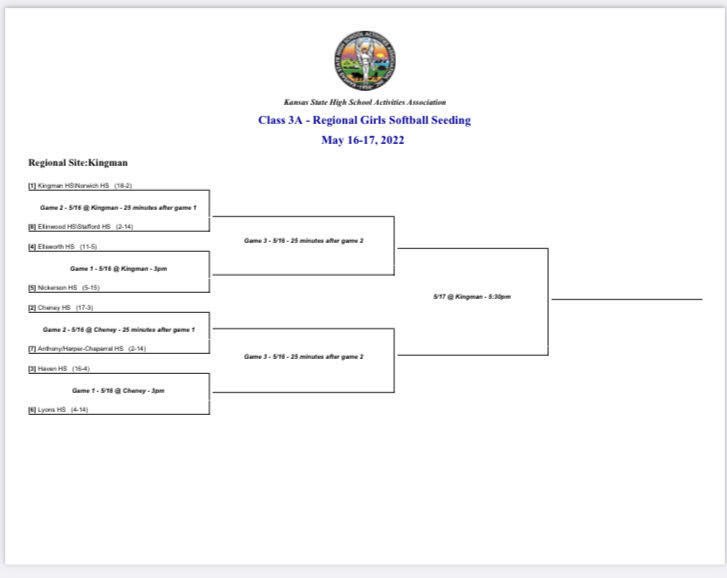 Lyons Board of Education position #1 (at large)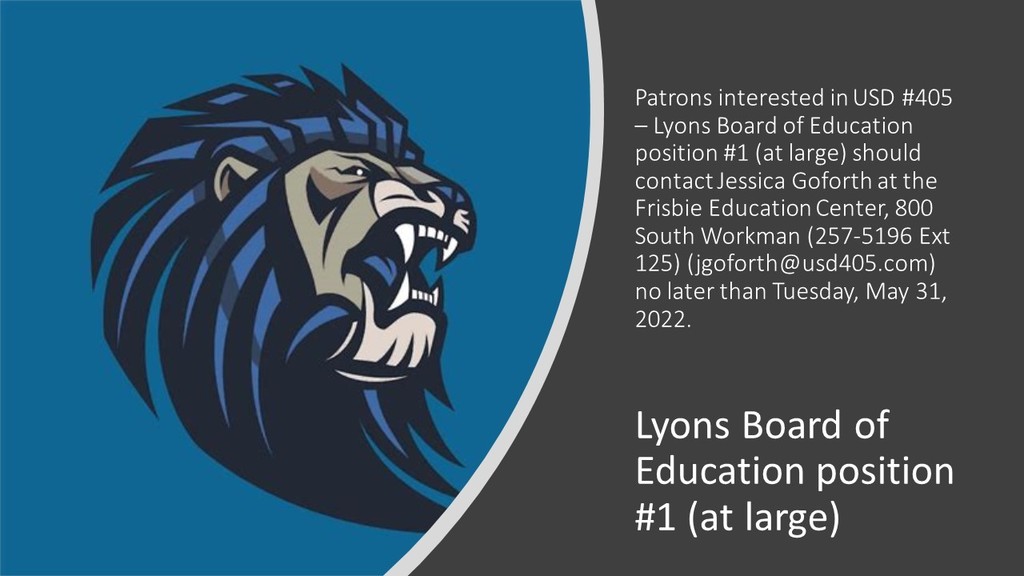 Congrats to Eric Diaz who signed play eSports with Bethany College.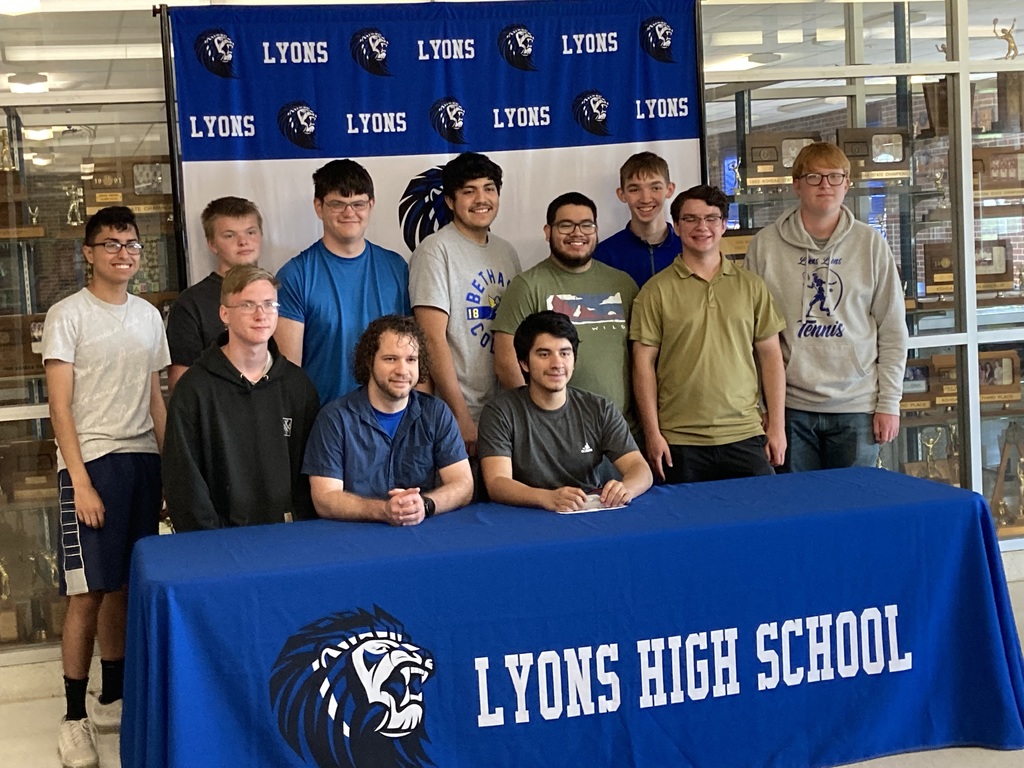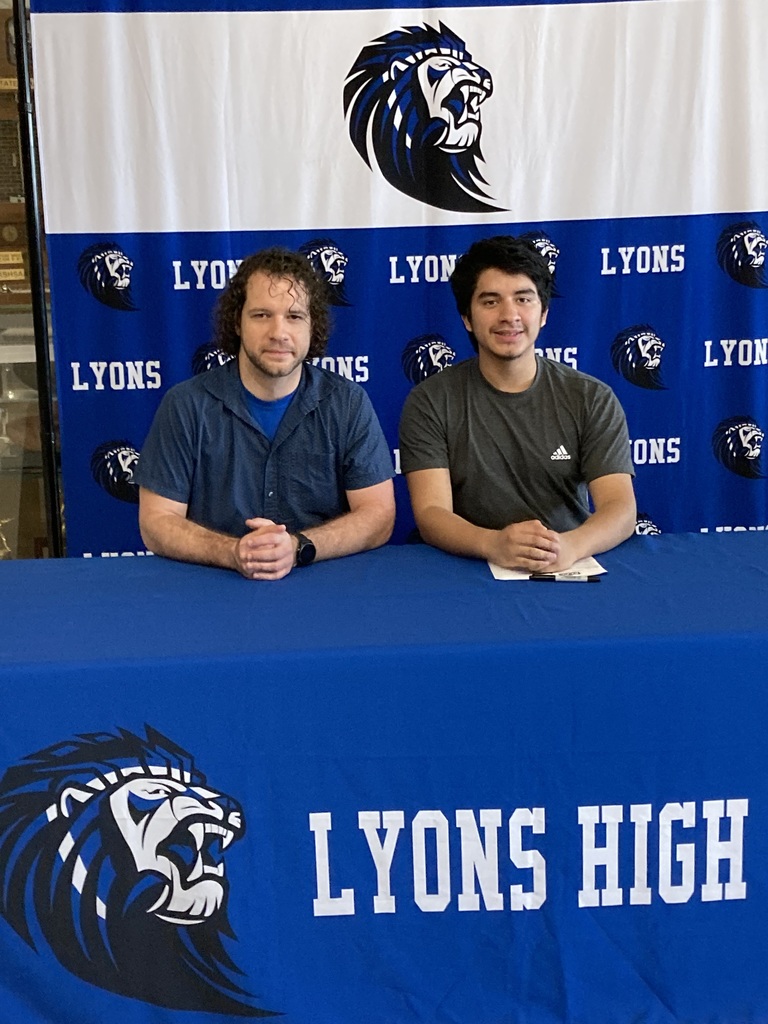 LHS Semester Tests Information/ Kelly Nusser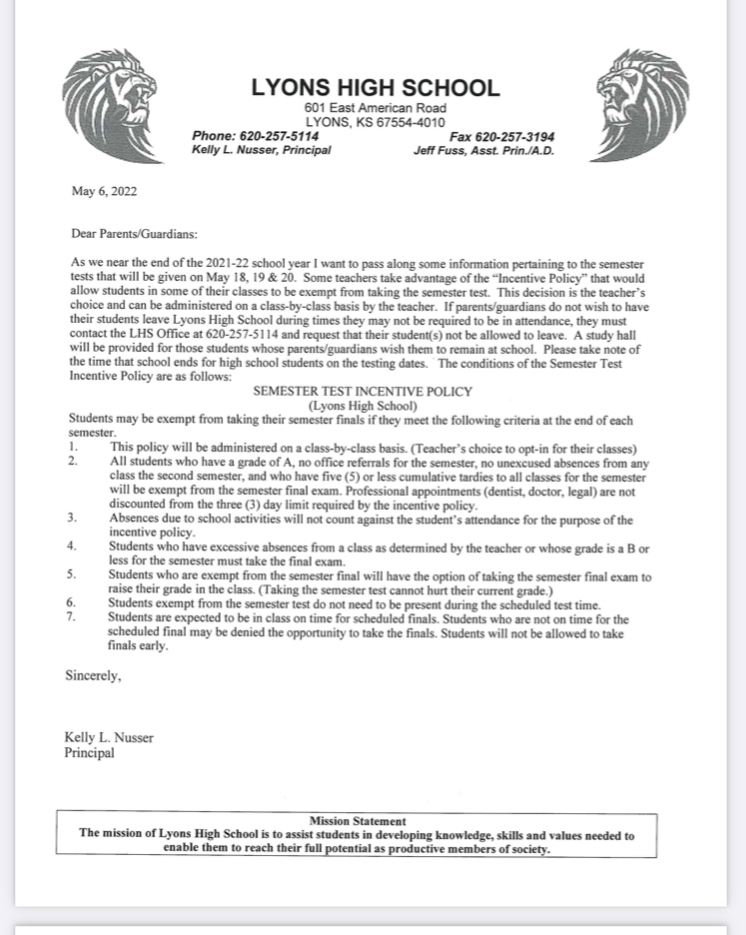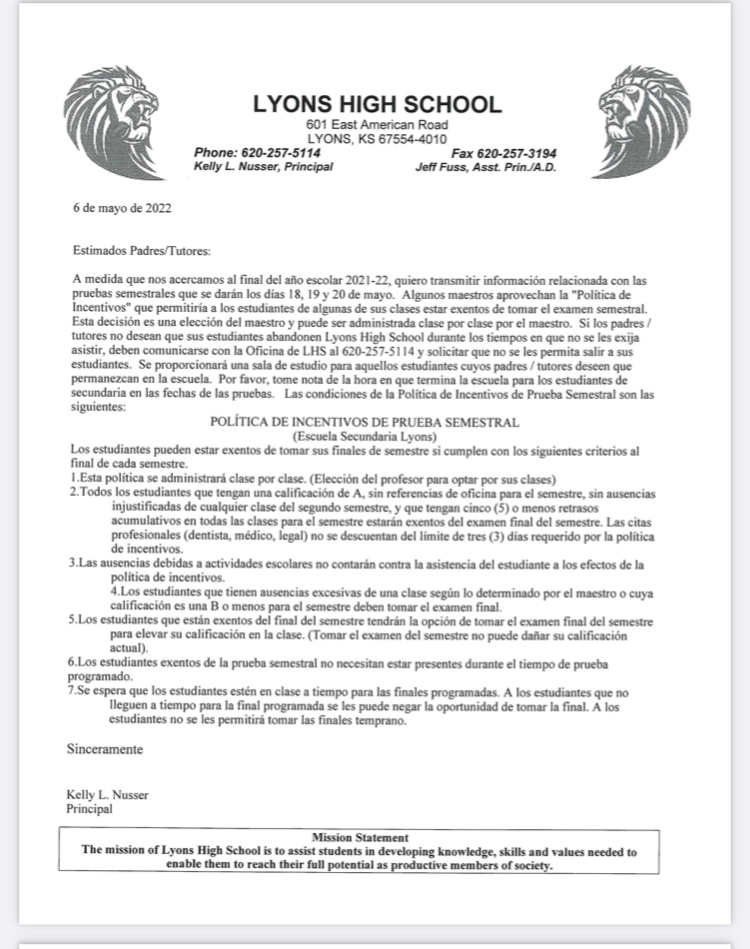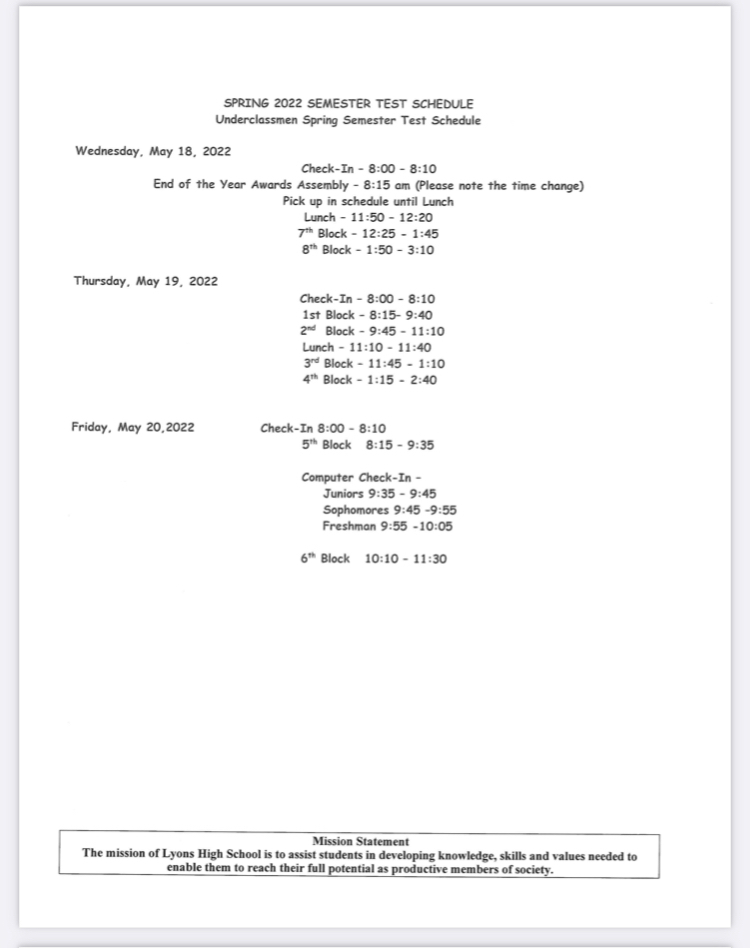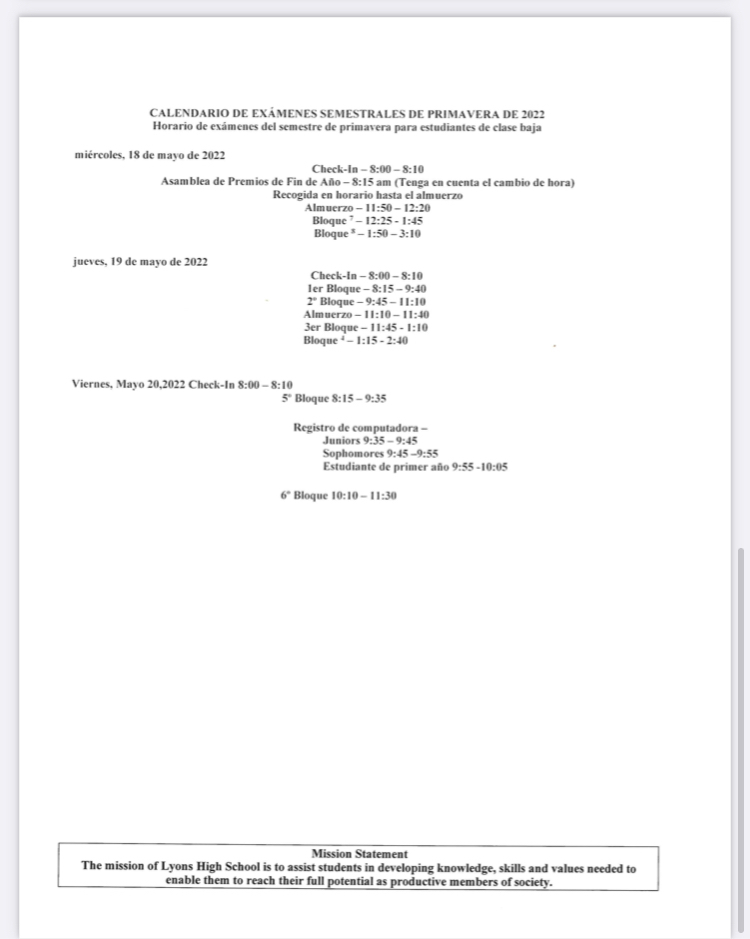 LHS Weekly Schedule - May 9-15, 2022 Monday – May 9, 2022 Breakfast: Fruit/Juice, Cereal, String Cheese and Milk Lunch – Chicken Tetrazzini, Steamed Carrots, Bread Sticks, Fruit & Milk 1) USD 405 Board of Education Meeting – 6 pm – FEC 2) NHS Induction Ceremony – 6 pm – Cafeteria 3) AFJROTC Awards Program – 7 pm - Auditorium Tuesday, May 10, 2022 Breakfast: Fruit/Juice, Tornado and Milk Lunch: Crispito, Corn, Refried Beans, Peaches & Milk 4) Freshman & sophomore Physicals at LMC – 8 am 5) Senior Pride Walk - 10:30 am 6) CKL Golf at Hesston – 12:15 pm 7) Baseball v Larned – Battershell Field – 4 pm (Senior Parent Recognition) 8) Softball v Larned – Salty Archer Field – 4 pm (Senior Parent Recognition) Wednesday, May 11, 2022 Breakfast: Fruit/Juice, Pizza and Milk Lunch – Lasagna, Romaine, Sweet Peas, Pineapple Bread Sticks & Milk. 9) Junior Physicals at LMC – 8 am 10) Baccalaureate Service at Methodist Church – 7 pm Thursday, May 12, 2022 Breakfast: Fruit/Juice, Pancakes and Milk Lunch – Tony's Stuffed Sticks w/ Marinara Sauce, Green Beans, Mixed Fruit & Milk 11) Senior Farewell Assembly – 9 am 12) CKL Track Meet at Pratt – 2 pm Friday, May 13, 2022 Breakfast: Fruit/Juice, Super Donut and Milk Lunch: Sloppy Joe on a Bun, Tri-Tator, Baked Beans, Oranges & Milk 13) Commencement Practice- 8 am 14) Boys State Tennis Tournament at KC Christian 15) FFA Banquet – 6 pm – LHS Cafeteria & Auditorium Saturday, May 14, 2022 16) Boys State Tennis Tournament at KC Christian Sunday – May 15, 2022 17) Commencement – 2 pm – LHS Auditorium

Senior Week Schedule: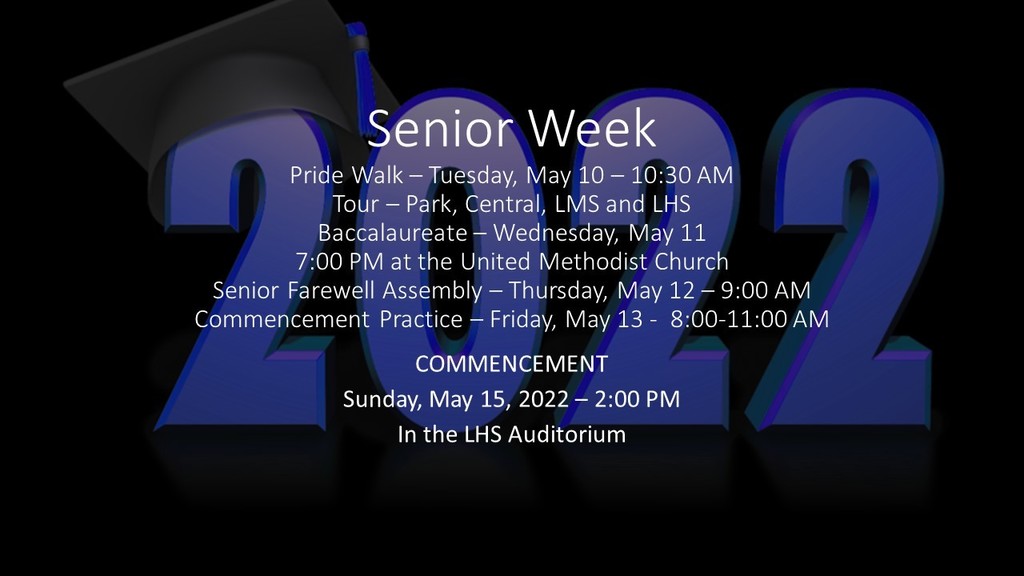 FFA Community Outreach Business Highlight