Thank you to Becky Smith at The Sugar Leopard for helping us celebrate Dr. Seuss this week!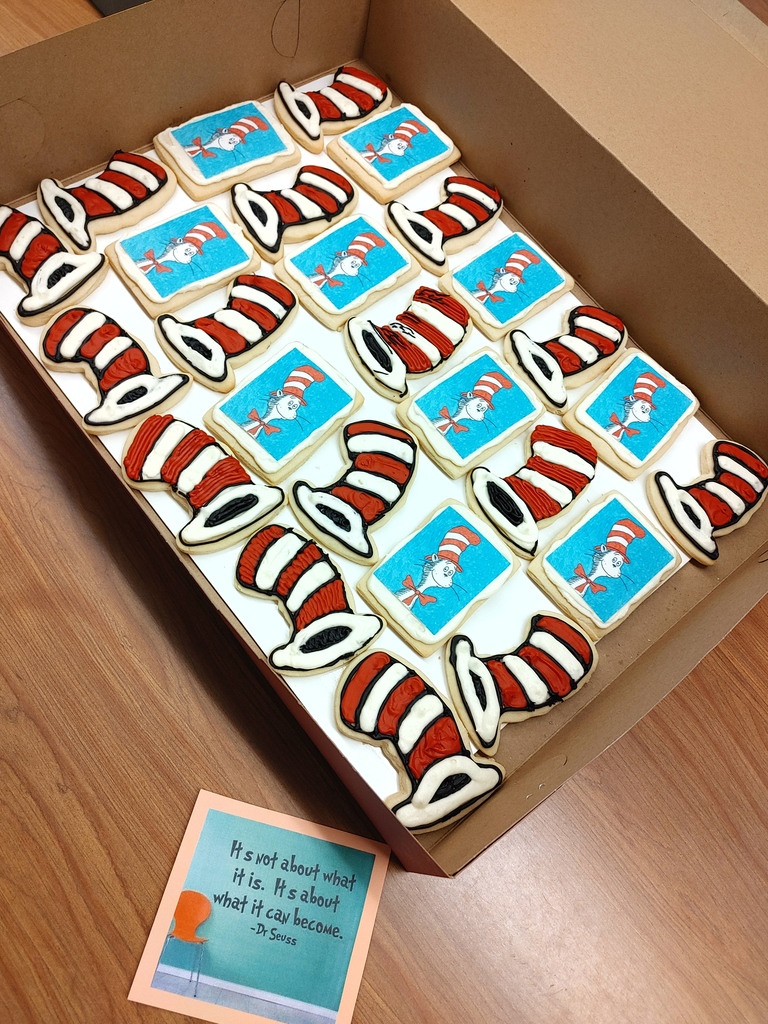 If you missed CLUE this past weekend at Lyons High you can still watch it this weekend March 5-7 the links to purchase tickets and to watch are located on the poster attached.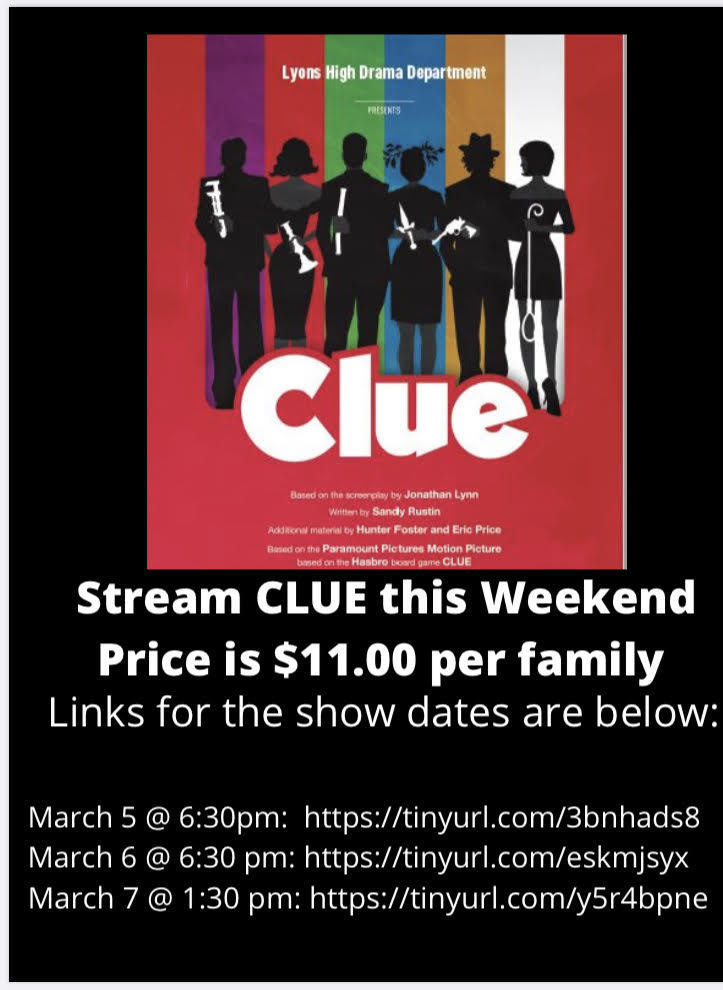 Congratulations to the LHS Boys Basketball team who defeated Kingman last night to move on to round two of SubState GAME 2 OF SubState Lyons vs Haven WHEN: Friday, March 5 TIME: 5:30 PM WHERE: Hesston High School TICKETS: Hesstion is using the KSHSAA online ticket sales for all tickets this sub state week. Each school will be emailed a direct link to your school's ticket site. This is unique to your school, but is not code protected. So if the link gets shared outside of your organization anyone can purchase a ticket on it. How you share it is up to you. Each school will be limited to 250 tickets maximum. Once that limit is reached, it will indicate to your patrons that the limit has been reached and is sold out. Ticket holders will receive their tickets on their smartphones and will need to have them ready to validate at the gate. Our ticket person will have them show their phone to them and then validate the ticket on their phone. We will not be selling any cash tickets at the gate, but if there are still available tickets I will have a QR code available for patrons to purchase their tickets at the gate. I will also attach some videos from GoFan to share with your patrons. Patrons will be allowed into the gym no earlier than 45 minutes before the scheduled game time. The gym will be cleared between games and patrons with tickets for the next game will be allowed in after this has occurred. How to Buy Tickets
https://www.youtube.com/watch?v=tkZqTY5d6Bg&feature=youtu.be
How to Validate Tickets
https://www.youtube.com/watch?v=G22NNB8uuXE&feature=youtu.be
Access & Sharing Tickets
https://www.youtube.com/watch?v=H0Xhso4QobA&feature=youtu.be
PURCHASE TICKET LINK:
https://gofan.co/app/events/240129
STREAMING: Games will be live streamed on our youtube channel at:
https://www.youtube.com/channel/UCUDya0YODLcoBeAH5Mzu_0g
COVID considerations: We will designate the bench side of the gym as the visitor section and the opposite side as the home section. All patrons will be required to wear masks when they enter the building. We have designated every other row for seating to maintain distance between seating areas. We ask that family units sit together within the designated areas. Game 1 - Lyons will have home side seating Game 2 - Hesston will have home side seating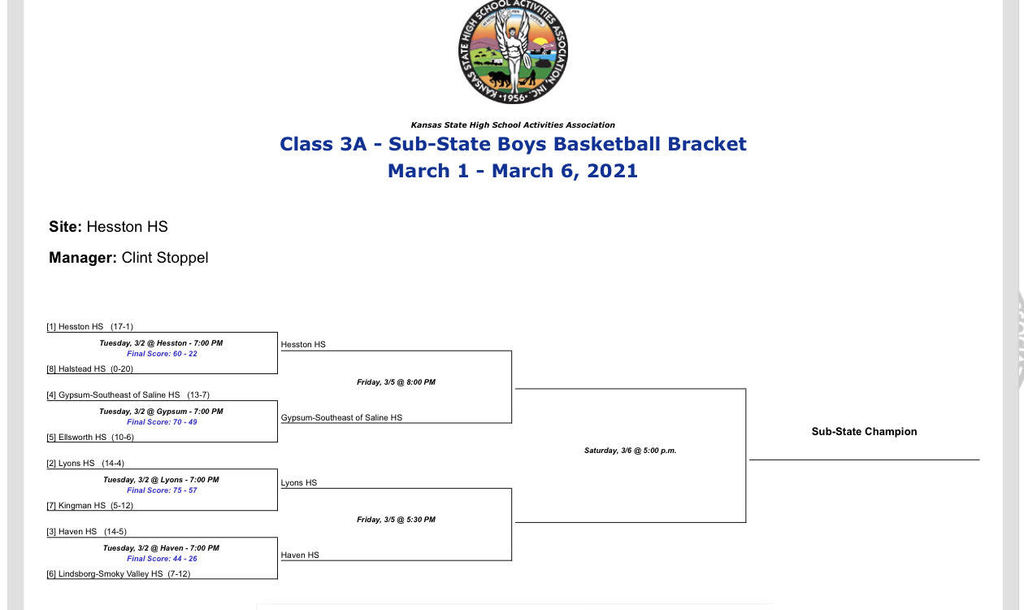 Final. Lyons 75 Kingman 57

End of 3. Lyons 52. Kingman 39

Halftime. Lyons. 36. Kingman 23

End of 1. Lyons 17. Kingman 15

LHS Baseball Gambino's Pizza Fundraiser Tuesday, March 9 4:00 - Close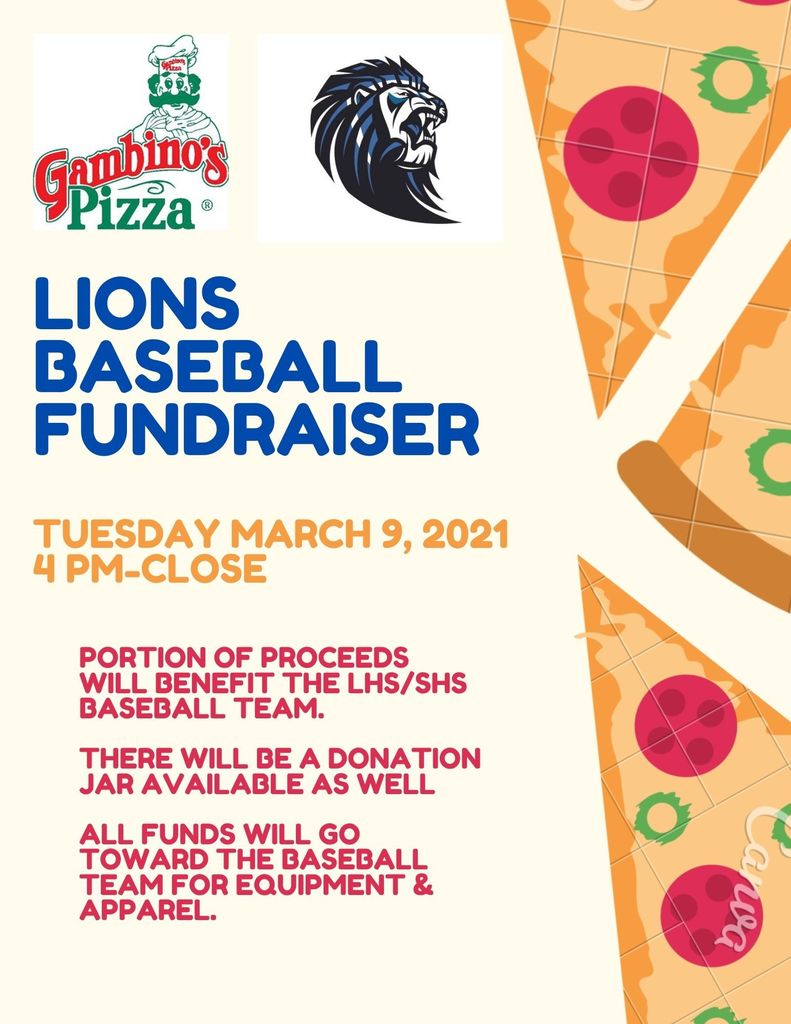 Final. Halstead. 49. Lyons Lady Lions 26

End of 3. Halstead 43 Lyons Lady Lions 15

Halftime. Halstead 24. Lyons Lady Lions 8

End of 1. Halstead 10. Lyons Lady Lions 2

The LHS Girls Basketball Sub State game vs Halstead tonight will be broadcast on Ad Astra Radio KSKU 94.7FM.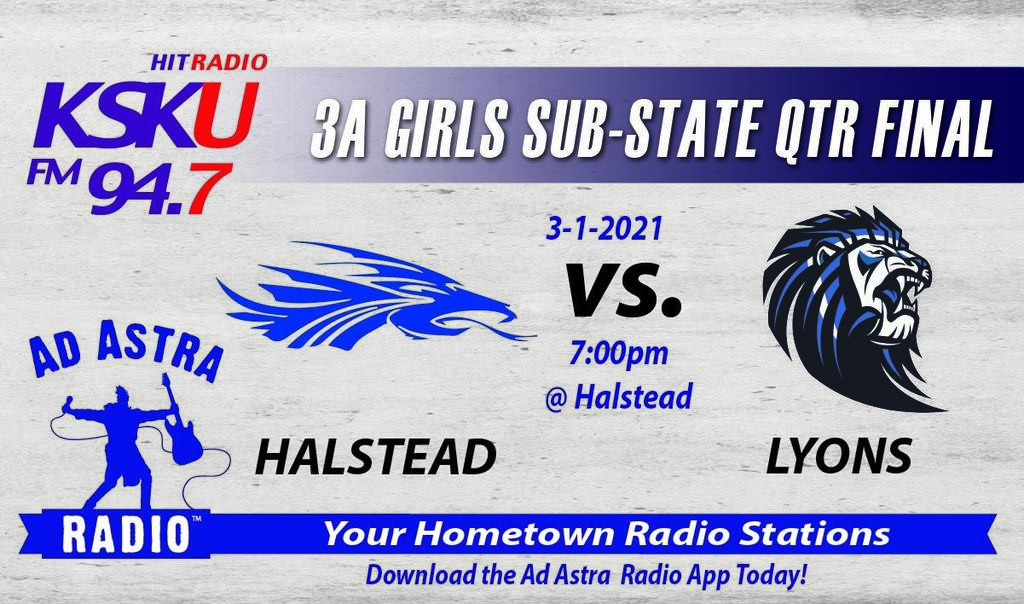 There will be a MS Wrestling parent meeting after practice Wednesday, March 3 at 5:45 PM in Central gym.


Reminder: No spectators will be allowed at the Remington MS WR Tourney


The LHS Baseball Parent/Player meeting has been rescheduled for Wednesday, March 3rd at 6:30 pm in the LHS cafeteria.

LMS CKL Wresling Tournament Hoisington Middle School is pleased to host the CKL MS Wrestling Tournament on Thursday, March 4th. The tournament will be held at the Hoisington Activity Center. Starting time will be 1:00 pm and we will be running 4 mats. Due to COVID and because we are running 4 mats will only be allowing 2 spectators per wrestler. Social Distancing must be maintained when possible, and masks must be worn as intended at all times. The tournament will be Live Streamed on the Video Production USD 431 YouTube channel.

LHS Girls Basketball Sub-State The Lyons girls basketball team will travel to Halstead for the first round of SubState DATE: Monday, March 1 TIME: 7:00 PM PLACE: Halstead High School Gym SPECTATORS: Halstead is allowing 4 family members per participant. Masks must be worn at all times and you must sit in family groups with social distancing. If the girls win on Monday, they will advance and play round 2 at Hesston on Thursday