LHS Football vs Belle Plaine Dragons WHERE: Lyons WHEN: Thursday, Oct 28 TIME: 6:00 PM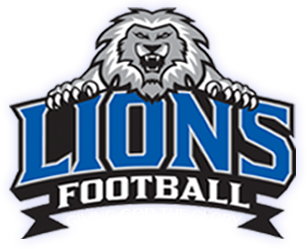 LYONS HIGH SCHOOL WEEKLY SCHEDULE OF EVENTS October 25 - 31, 2021 Monday – October 25, 2021 Lunch: Soft Taco, Lettuce/Cheese, Corn, Refried Beans, Pears, & Milk 1) Lions in Lyons Day – 8:00 – 11:26 Tuesday, October 26, 2021 Lunch: Chicken Nuggets, Mashed Potatoes/Gravy, Peas, Fruit Cocktail, Roll & Milk 2) Student Led Conferences – LHS Gymnasium 4:45 to 8 pm 3) LHS JV Scholars Bowl at Hutch Trinity – 4 pm Wednesday, October 27, 2021 Lunch – Corndog, French Fries, Steamed Carrots, Pineapple & Milk. 4) LHS Marching Band at the South Plains Marching Festival at Andover – All Day Thursday, October 28, 2021 - Lunch: Chicken Quesadilla, Salsa/Tortilla Chips, Savory Rice, Corn, Orange Wedges & Milk 5) AFJROTC Unit Review – All Day- 6) Varsity Football – Lyons vs Belle Plaine – 6 pm Kickoff Friday, October 29, 2021 Lunch: Fiestada Pizza, Salad, Green Beans, Sliced Peaches & Milk Saturday, October 30, 2021 7) State Cross Country at Wamego Country Club (1900 Country Club Drive, Wamego, KS 66547) 3A Girls Race is at 12 pm – Good Luck Yamyle!! "Strength doesn't come from what you can do. It comes from overcoming things you once through you couldn't." - Rikki Rogers

Congrats to Yamyle Ramirez for qualifying for State XC at Wamego next Saturday, Oct. 30. 3A Girls run at 12:00 noon. Good luck Yamyle!

The Athletic Director from Nickerson has asked that those fans that will be attending the 3:00 pm games at Saturday's 3A Sub-State VB Tournament to please not enter the building until after 2:40 pm.

Ag Ed/FFA October Newsletter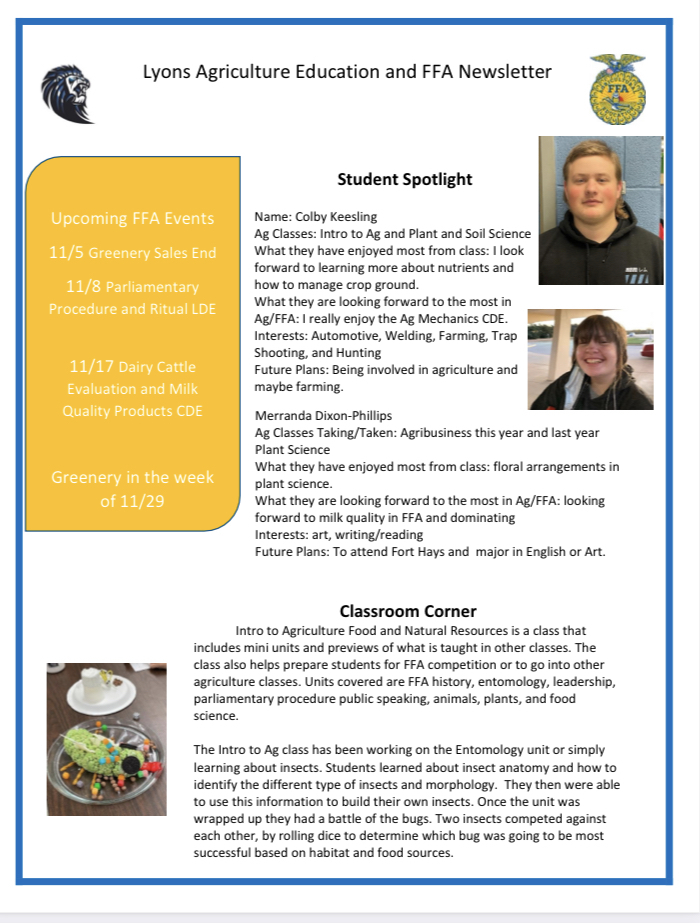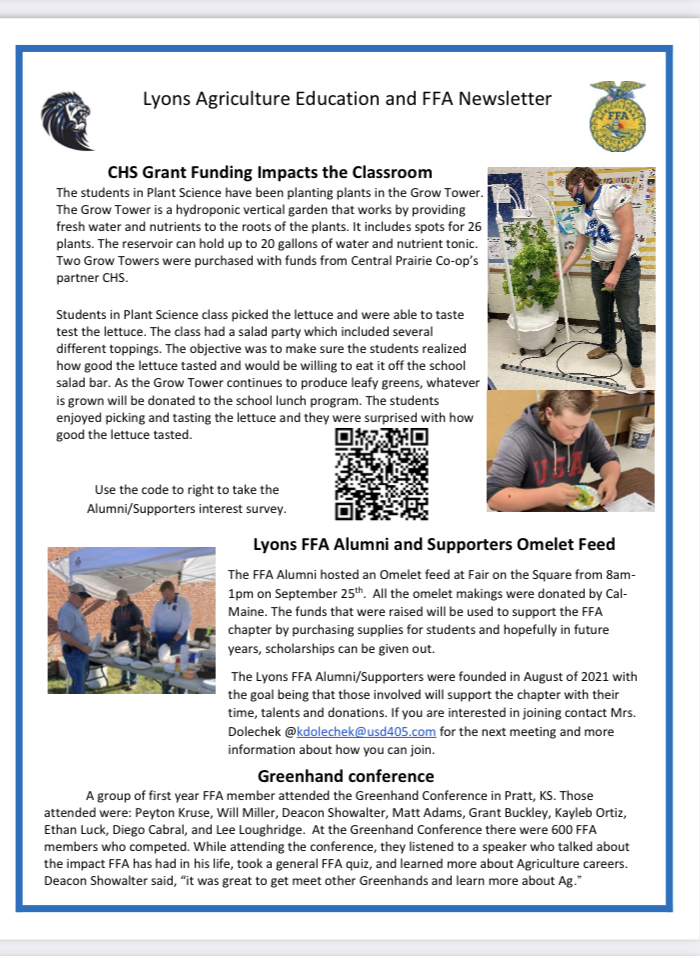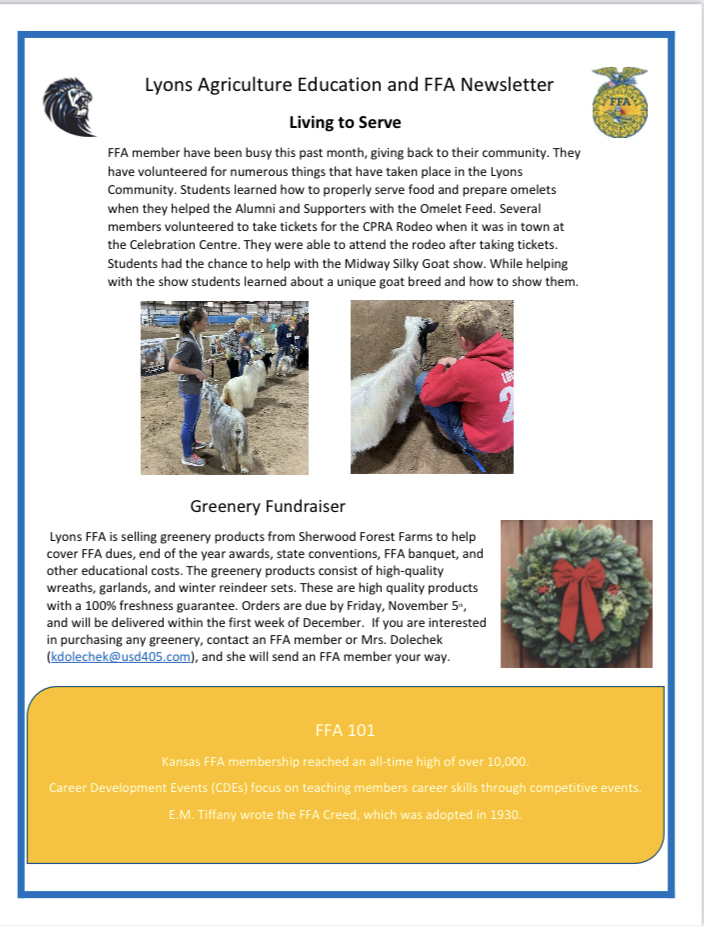 LHS Lyons Volleyball Sub-State WHERE: Nickerson High School WHEN: Saturday, Oct 23 TIME: Tournament starts at 2:00 PM, Lyons first match will start at approx 3:00 PM vs Hoisington TEAMS: Lyons, Cheney, Hoisington, Larned, Nickerson, Haven, Kingman, Chaparral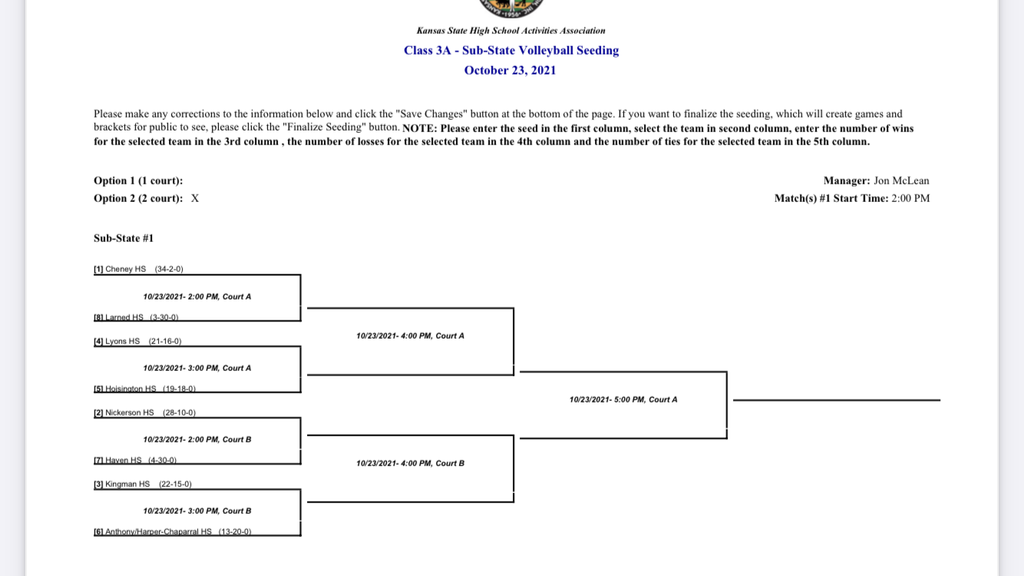 Lyons High School will have student-led conferences on October 21 & 26 from 4:45 to 8:00 p.m. to address their current academic performance for the first quarter of the 2021-22 school year. Each teacher has approximately ten or eleven students in their group. Your student should have already set up a time for this conference to take place on one of the two dates of the scheduled conferences. ​Lyons High School estará teniendo conferencias dirigidas por el estudiante el 21 y 26 de Octubre de las 4:45 a 8:00 p.m. para hablar acerca del desempeño académico del primer cuarto escolar para el año 2021-22. Cada maestro tiene aproximadamente diez o once estudiantes en su grupo. Su estudiante ya debió elegir un horario para que se lleve a cabo su conferencia en uno de los dos días mencionados.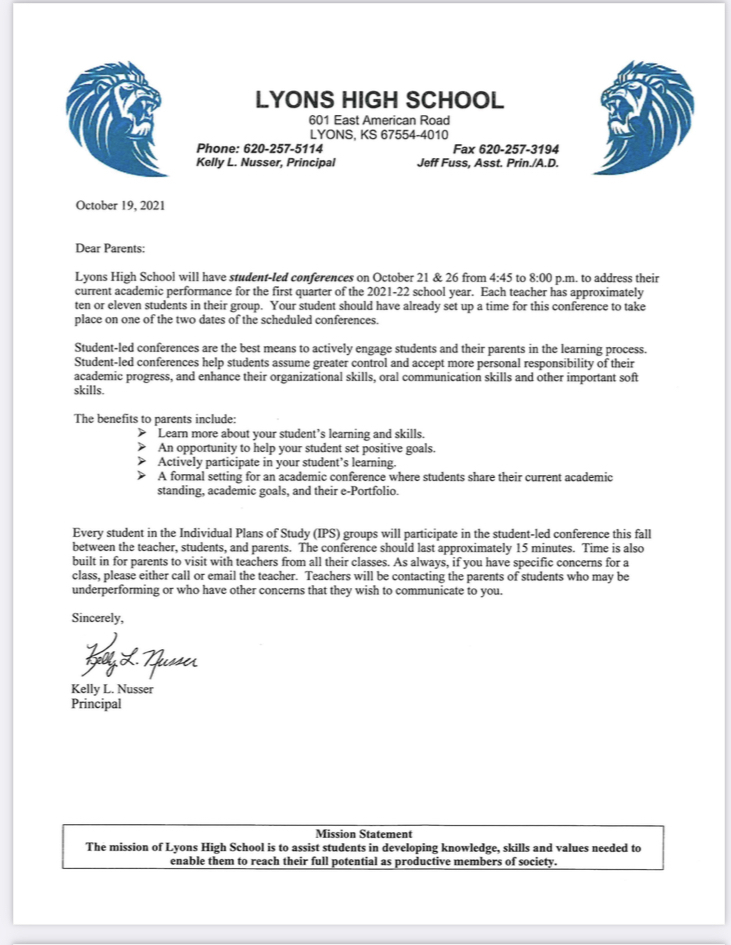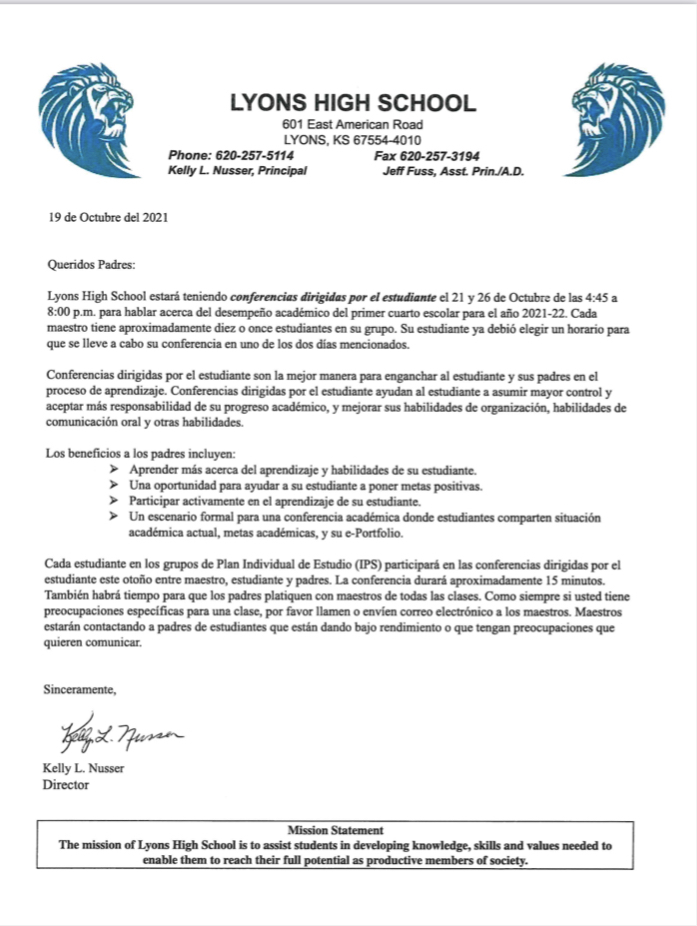 LHS Volleyball vs Hesston WHEN: Tuesday, Oct 19 TIME: 5:00 PM SENIOR PARENT NIGHT: We ask that senior parents be at LHS gym by 5:15 PM. Ceremony will be between duals.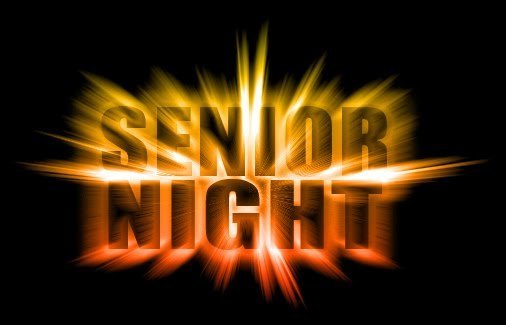 School Bus Driver Appreciation Day Wednesday, Oct 20 Every day, either as children or parents, we appreciate school bus drivers. They are always there to make sure kids get to and from school or activities safely and on time. Thank you, Lyons bus drivers for all you do for the students of Lyons Schools.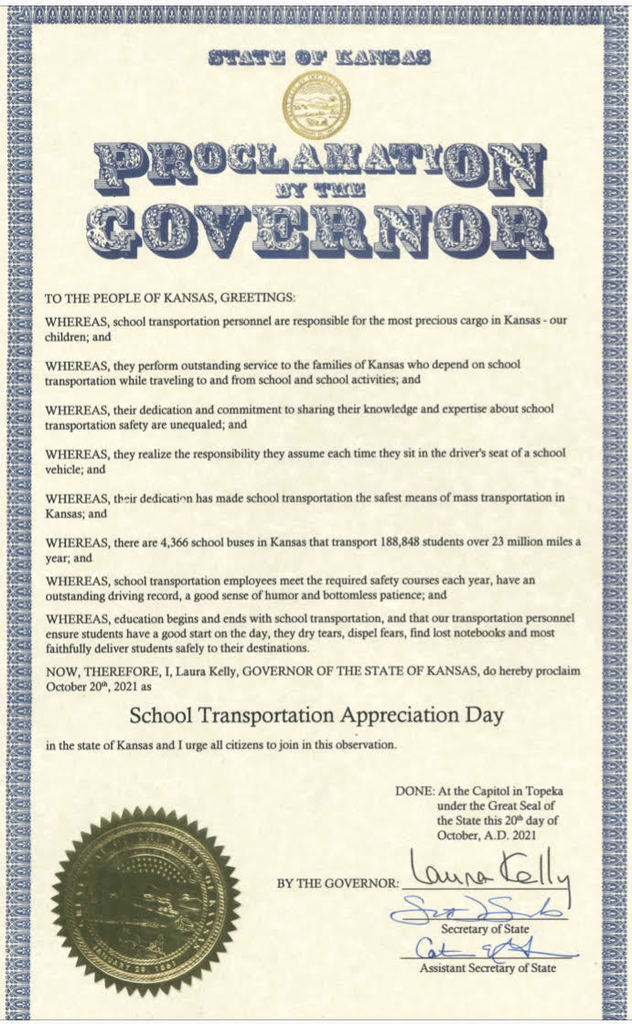 USD 405 Lyons is currently taking applications for activity bus drivers. You can apply online at
www.usd405.com
or in person at the FEC.


LHS Football vs Marion WHERE: Marion WHEN: Friday, Oct 22 GAME TIME: 7:00 PM LOCATION: Warrior Stadium, 305 Eisenhower Dr. Marion, 66861 Live Stream: Games will be live streamed at youtube.com, search MCTV20Live.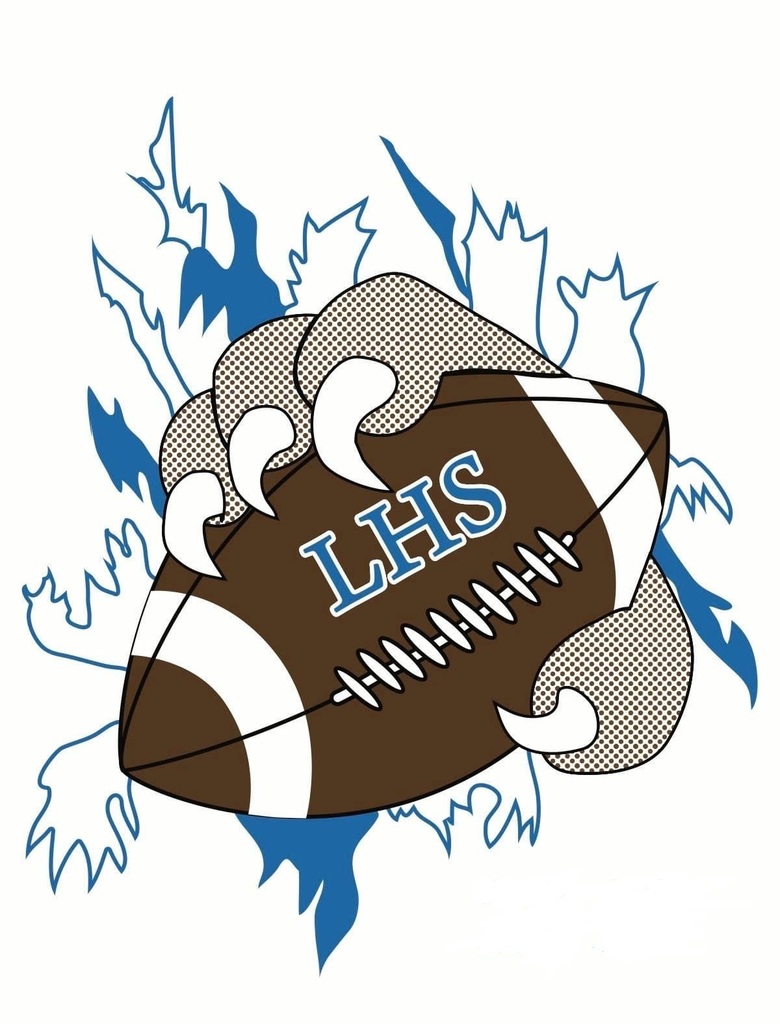 Jared Rose (center) at Hall of Fame reception before induction ceremony at LHS.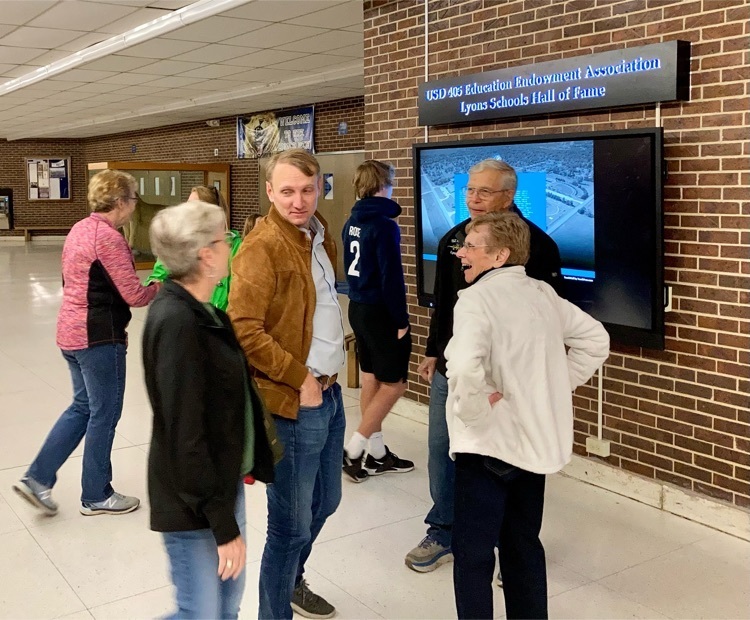 Community reception for Lyons Schools Hall of Fame inductee, National Merit Scholar—Jared Rose from 6-7 this evening, Friday, October 15 at the LHS Commons Area and cafeteria with induction ceremony at halftime of the Hillsboro at Lyons football game! Refreshments served.

The Lyons Schools will be conducting an emergency drill at 11:30. If you hear sirens and see emergency services and law enforcement at the schools at that time, it is just a test!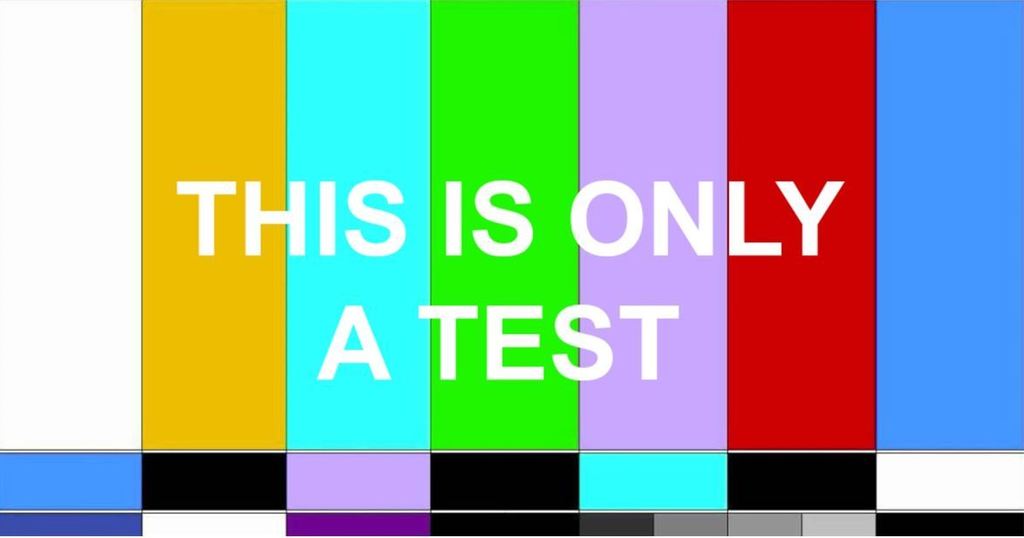 LHS Volleyball Double Dual vs Hesston WHERE: Lyons WHEN: Tuesday, Oct 19 TIME: 5:00 PM HS North Gym Varsity HS South Gym JV and C team *This is our Senior Parent's Night, so there will be a brief ceremony before the start of 6:00 Varsity match to recognize the 5 senior girls for Volleyball. If the C match is underway, we will wait for a break and pause the game momentarily. We would like to have the senior Parents their by 5:30 PM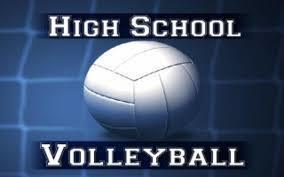 LHS JV Football vs Hillsboro WHERE: Hillsboro LOCATION: USD 410/Tabor Stadium (Joel Wiens Stadium). 800 South Adams Street. DATE: Monday, Oct 18 TIME: 6:00 PM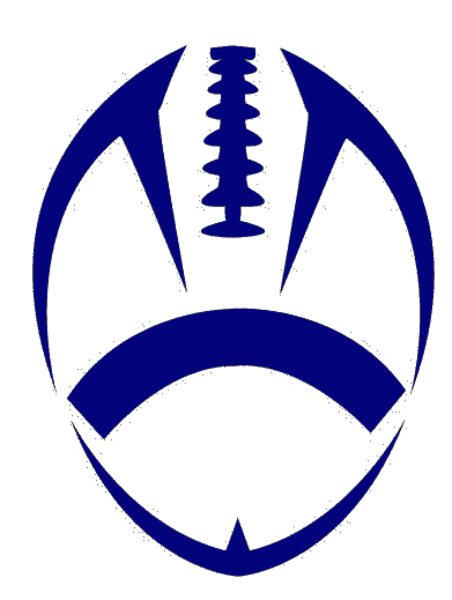 2021 CKL Middle School VOLLEYBALL TOURNAMENT WHERE: Haven WHEN: Saturday, Oct 16 TIME 9:00 AM TEAMS: Haven, Smoky Valley, Reno Valley, Halstead, Pratt-Liberty, Hillsboro, Hesston, Lyons, Larned, and Hoisington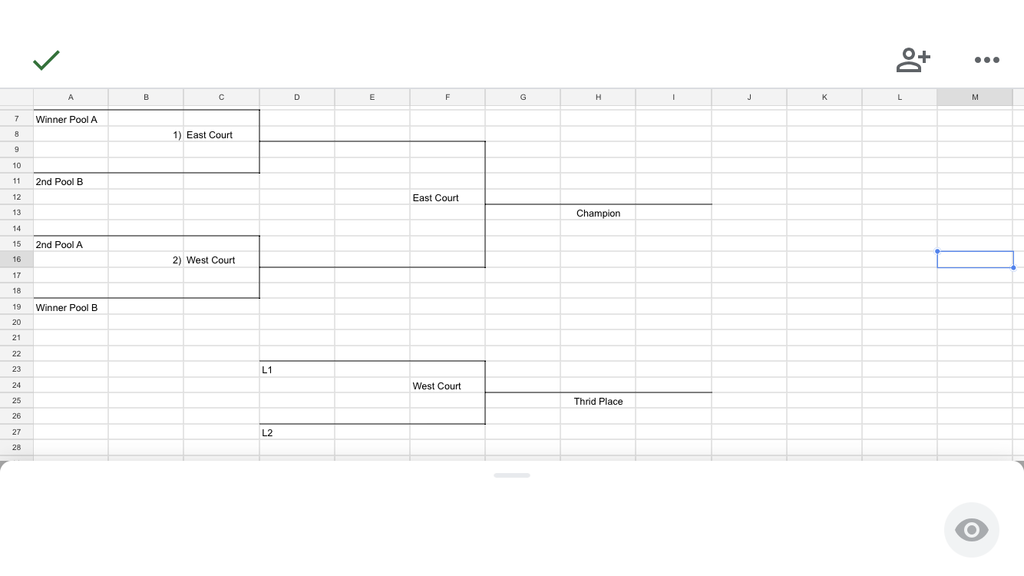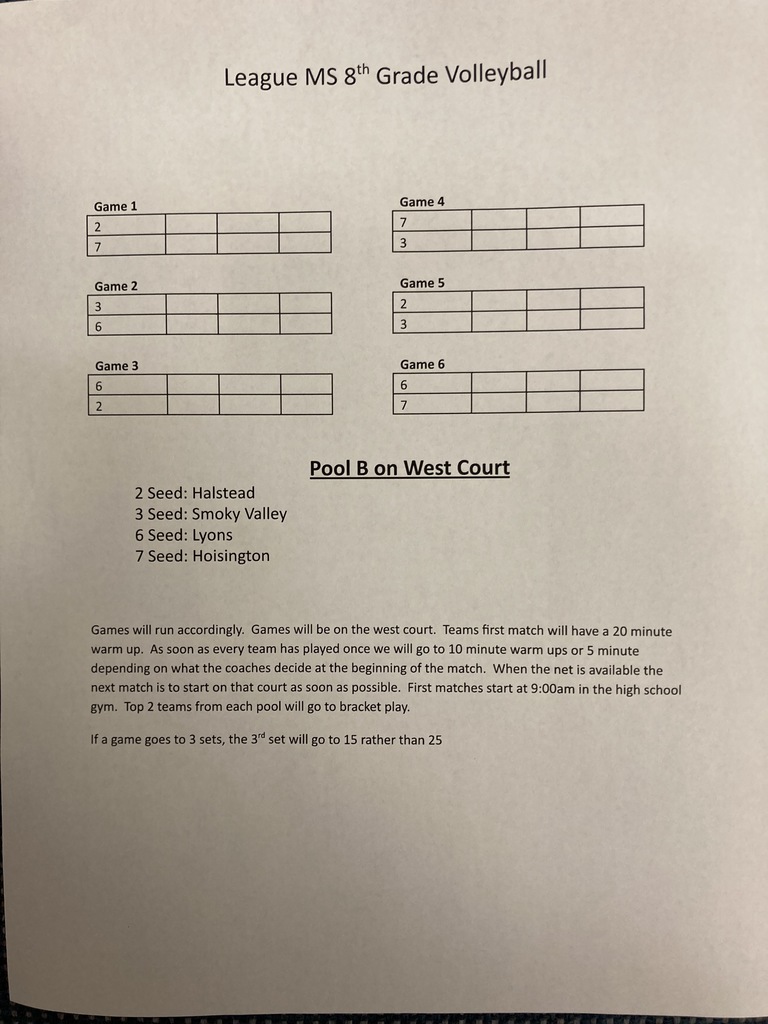 LYONS H.S. SOPHOMORE - CLASS OF 2024 CLASS RING ORDER DAY: TUESDAY, OCTOBER 12TH 7:30 A.M. AT SCHOOL DESIGN YOUR RING ONLINE AT
WWW.JOSTENS.COM
PLEASE DON'T FORGET YOUR $100.00 DOWN PAYMENT FREE 2024 COMPANION RING ON ORDER DAY ONLY WITH CLASS JEWELRY PURCHASE BEST PAYMENT PLAN IS JPAY WITH AUTOMATIC CHARGE TO CARD OVER 3 INSTALLMENTS Brady T. Ayer 316-681-2000
bradyayeroffice@jostens.com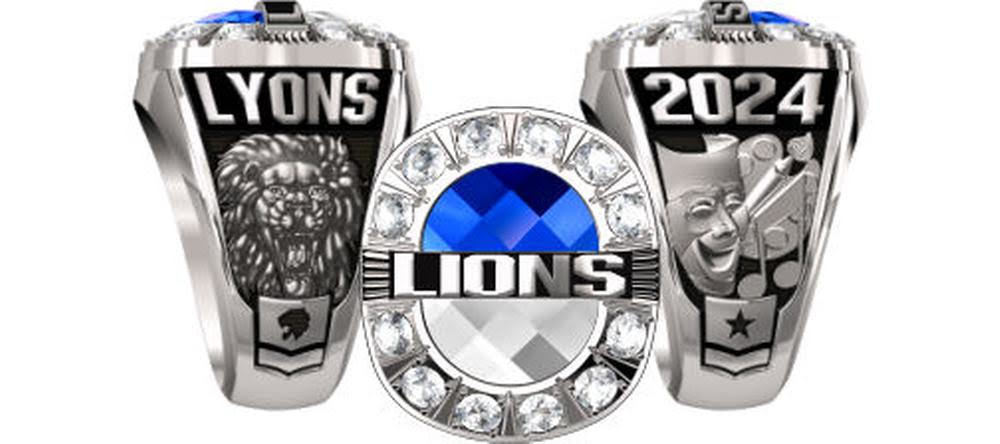 LHS Football vs Hillsboro WHERE: Lyons WHEN: Friday, Oct 15 TIME: 7:00 PM PARENT NIGHT: We will introduce seniors and their parents at 6:30. If you could have your team off the field at that time it would be great. You can go to our practice field directly behind the game field to the north.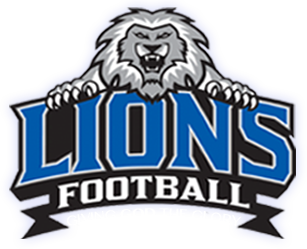 LYONS HIGH SCHOOL WEEKLY SCHEDULE OF EVENTS October 11 - 17, 2021 National Activities Week: Monday: National Fine Arts Activity Day Tuesday: National Officials Day Wednesday: National Youth Awareness Day Thursday: National Coaches/Sponsors/Activities Day Friday: National Fan Appreciation Day Saturday: National Community Service Participation Day Monday – October 11, 2021 Lunch: Pig-in-a-Blanket, Potato Wedges, Broccoli/Cheese, Apple, & Milk 1) Volleyball @ Larned w/ Larned & Kinsley – 5 pm 2) JV Football v Haven – 6 pm – Buller Field 3) USD 405 Board of Education Meeting – 6 pm FEC Tuesday, October 12, 2021 Lunch: Chicken Wrap, Shredded Lettuce, Sweet Baby Carrots, Mixed Fruit & Milk 4) LHS Varsity Volleyball @ Skyline (Pratt) - 5:00 pm Wednesday, October 13, 2021 Lunch – Spaghetti, Garden Salad, Steamed Corn, French Bread Stick, Peaches & Milk. 5) PSAT Test – For those students who signed up. 6) AFJROTC CIA Trip to Salina Poly Technic/Aviation Thursday, October 14, 2021 - End of the 1 st Nine Weeks Lunch: Taco Salad, Lettuce/Cheese, Baby Carrots, Tortilla Chips, Refried Beans, Pineapple & Milk 7) LHS Cross Country – CKL Cross Country Meet at Lyons - 4 pm Friday, October 15, 2021 – No School – ½ Professional Development & ½ Workday for Staff Lunch: 8) Varsity Football v Hillsboro (Fall Sports Parent's Night Recognition – 7:00 p.m. Saturday, October 2, 2021 9) Marching Band Competes in the Kansas Band Director's Association Competition at Hutch