ADA and printable version at bottom of this page.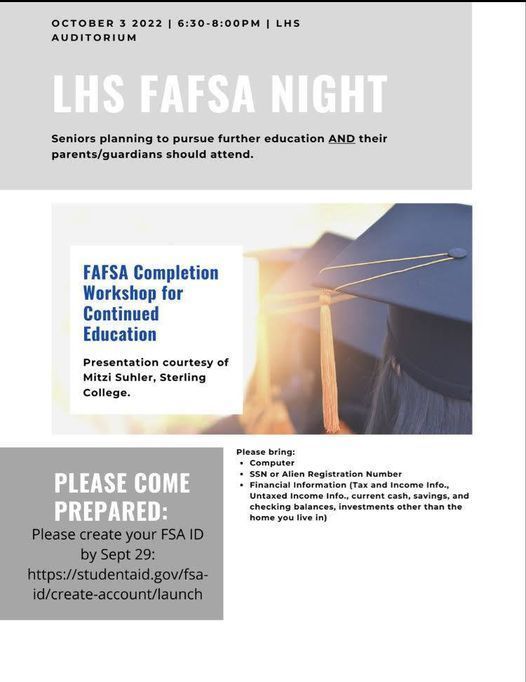 Senior Parents: FAFSA Night Senior students planning to pursue further education and their parents are invited to attend a FAFSA Workshop night put on by Mitzi Suhler from Sterling College. FAFSA will be completed at this event so make sure to come prepared by completing your FSA ID at least 3 days in advance and bringing a computer and financial information. The student's computer might be easiest since it should already be connected to the school's WiFi.
See flyer for details.
Contact Miss Farmer with questions (cfarmer@usd405.com).
Estudiantes Seniors que planean seguir su educación y sus padres son invitados a atender un taller de FAFSA que es dado por Mitzi Suhler del Colegio de Sterling. FAFSA será completado en este evento así que venga preparado con su ID de FSA completado 3 días antes y trayendo una computadora e información financiera. La computadora del estudiante será la mejor ya que ya está conectada al WiFi de la escuela.
Vea el volante para más información.
Contacte a Miss Farmers con cualquier pregunta (cfarmer@usd405.com).
Thank you,