Welcome Mr. Ashmore!
Darrin Ashmore has been hired to replace LHS principal Kelly Nusser when he retires at the end of the 21-22 school year.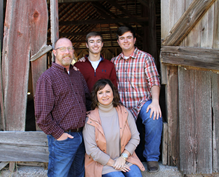 Mr. Ashmore has been an educator for 24 years, including 13 years as a secondary building administrator. For the last seven years, he has served as the principal at Altoona-Midway Middle School / High School in Buffalo, Kansas.
He received his Bachelor of Science degree in Elementary Education from Emporia State University in 1993 and his Master of Science degree in Educational Administration from Emporia State in 2004.
Ashmore believes that building positive relationships with students, staff, parents, and community members is vital and that honesty, integrity, compassion, drive, and faith in self and others are the personal characteristics that define an excellent administrator.
Mr. Ashmore and his wife, Laura, plan to visit Lyons this spring to get to know the students and staff, before he officially begins his duties in August 2022.