National School Bus Safety Week Oct. 18-22

Some are on the road before sunrise and others return home long after sunset. With every trip and the thousands of miles they travel, we trust them with the most precious cargo, our children. School Bus Drivers' Appreciation Day was proclaimed to be Wednesday, October 20th, and falls during National School Bus Safety Week, October 18-22. USD#405 will recognize our 12 drivers. In Kansas, there were 4,366 school bus drivers during the 2020-2021 school year who were responsible for a total of 188.848 student passengers for more than 23 million miles a year.
Oct. 20 proclaimed School Transportation Appreciation Day in Kansas
Oct. 18-22 celebrated as 2021 National School Bus Safety Week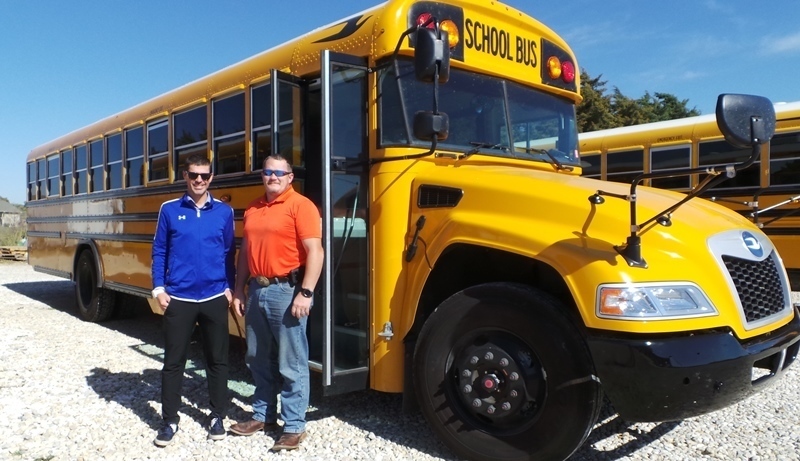 USD#405 transportation director, Gerald Paz Lostes and bus driver Samuel Lehman stand near one of the new school buses in the 405 fleet.


TOPEKA — School transportation employees play an important role in the safety of Kansas children – so to help honor their dedication and expertise, Gov. Laura Kelly designated Wednesday, Oct. 20, 2021, as School Transportation Appreciation Day.

"School transportation employees play an important role in the safety of our students," said Keith Dreiling, director of the Kansas State Department of Education's School Bus Safety Unit. "There is a critical shortage of school bus drivers, not only in Kansas, but across the nation. We just don't have enough school bus drivers to fill the need. We are asking community members to consider driving a school bus if they can, and I want to encourage the state of Kansas to help celebrate the men and women who currently sit behind the wheel of our buses and dedicate their time and talent to keeping our students safe."

School Transportation Appreciation Day falls within National School Bus Safety Week, which is Oct. 18-22. National School Bus Safety Week takes place the third full week of October each year. It is designated to promote school bus safety.

The theme for this year's campaign is "Be Safe – Know the Danger Zone," and is derived from a 2020 national poster contest, according to the National Association for Pupil Transportation (NAPT). The national winning poster was drawn by Huyen Pham, a Northbrook Middle School student from Atlanta, Georgia.

Kansas also hosts a yearly school bus safety poster contest, Dreiling said, and any Kansas student can enter. This year's theme is 1 Bus+1 Driver=A Big Impact on Education. Posters can be drawn anytime between now and March 1, 2022. Posters must be submitted to KSDE before March 15, 2022. First-place winners in each division will receive a plaque and a $50 check. Each winner's teacher also will receive a $25 check for the purchase of classroom materials.

State winners will be notified after May 1 and will be recognized at the School Transportation Conference, which will take place June 1-3. The theme for this year's conference is "Celebrating Red, White, and YOU!" About 200 school transportation personnel attend the annual conference, and nationally recognized speakers are brought in for the event.
The posters that win at the state level are entered into the national poster contest.
For rules and more information on this year's Kansas bus safety poster contest, visit https://www.ksde.org/Agency/Fiscal-and-Administrative-Services/School-Finance/School-Bus-Safety/School-Bus-Safety-Poster-Contest.

USD#405 transportation director, Gerald Paz Lostes stated, "As you probably know, we came to Lyons Kansas 2 years ago with all of my family (3 daughters) because we wanted to experience living abroad. If I'm honest, when the district gave me the opportunity to be a bus driver, I didn't realize how important it was to be a bus driver. As bus drivers, it is our responsibility to take care of all the students and other passengers. I mean everybody that is riding the school bus."
"We are always looking for new bus drivers every day every year. It's a rewarding job. And it's easy money for a second job. You get into the games free and if you have a child in the sport you can drive every game and get paid for it. What better way to support the Lyons Lions?" Said Paz Lostes.


---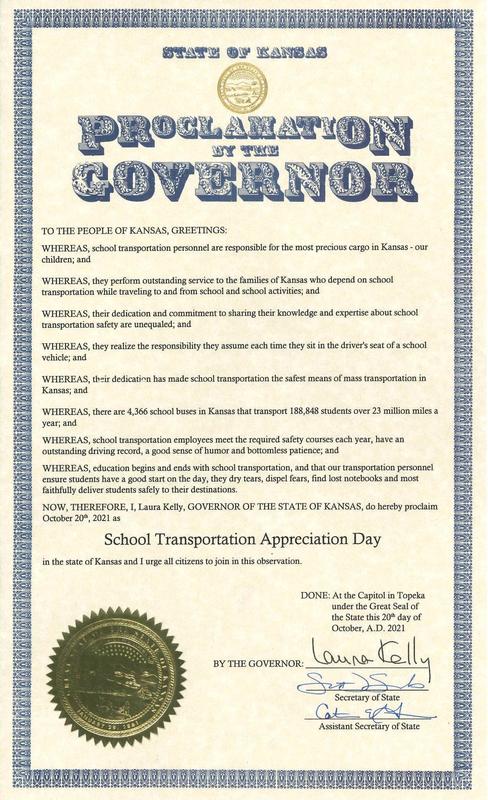 "School bus drivers are the quintessential unsung heroes," said Keith Dreiling. "These drivers are not just trained to respond in emergency situations, they're trained to prevent emergency situations, just as they would with their own children." These individuals hauling USD 405 students on regular routes, the shuttle bus, and activity trips include: Gerald Paz Lostes, Bobbie Besser, Russel Douglass, Brian Friess, Roger Griffin, Dan Reazin, Brad Reid, Tim Slupski, Samuel Lehman, Rocky Summers, Don DeWerff, and Greg Konda.
Thank you for your dedication!!
---
In honor of School Bus Drivers' Appreciation Day, parents are encouraged to review the following school bus safety rules with their children:
•Drivers cannot see you if you are standing too close to the bus. Stay out of the danger zone. Use five giant steps to estimate at least 10 feet.
•If something falls under or near the bus, tell the driver. Never crawl under the bus to attempt to pick it up.
•While waiting, stay in a safe place away from the street.
•Do not push or shove others.
•Follow the instructions of your school bus driver.
•It is important to listen to your bus driver in case there are any special instructions for your bus ride.
•Keep your head and arms inside the school bus at all times.
•Keep the aisle and emergency door clear at all times.
•Do not jump up and down, fight, bully or tease other passengers or make a lot of noise while riding the bus. These activities can bother your bus driver and he or she will not be able to give proper attention to driving.
•When you get on or off the bus, look for the bus safety lights and make sure they are flashing.
•Be alert to traffic. When you get on or off the bus, look left, right, left before you enter or cross the street.
•When the driver says it is safe to cross the street, remember to cross in front of the bus.
In addition, motorists in either direction are to stop when the school bus has on the red flashing lights and the stop signal arm activated. Those who pass may be subject to a $315 fine plus court costs.

Many do not realize the complexity involved in choosing to accept the large responsibility of driving a school bus. It is not as simple as getting behind the wheel and knowing the EXACT location of the destination. They must plan ahead and be ready for any situation from weather conditions to flat tires. Drivers have also taken first aid and CPR training. After reaching a location on time, waiting for hours for the event to finish then returning our children home. Drivers end their shift by collecting forgotten items, cleaning the interior of the bus, and refilling the fuel tank to ready the vehicle for the next day.

To drive a bus that is designed to transport 16 passengers or more (including the driver) the operator must have a valid Kansas Commercial Driver's License known as a CDL. This is typically a Class B license, which can be quite difficult to obtain. This allows the driver to operate straight vehicles weighing over 26,000 pounds in addition to any of the vehicles contained in Class C. The driver must also have all applicable endorsements, including the "P" (passenger) endorsement that requires additional written and skills testing to allow them to transport passengers. Drivers must also obtain an "S" (school bus) endorsement on their Kansas CDL. To receive these endorsements, they need to pass a special knowledge test and a road exam conducted in a vehicle similar to the type of school bus they will be driving. The nearest testing location is in Salina.

Areas included for endorsements are:
• Have complete knowledge of every component of the bus itself.
• Complete the training courses.
• Pass knowledge and driving tests.
• Have a clean criminal record.
• Have a clean driving record.
• Be certified as medically fit.

If the bus driver operates any vehicle equipped with an air brakes system, they are also required to pass an additional written knowledge test about air brakes. Understanding that driving is a serious responsibility that should never be taken lightly, drivers also continue their education by attending defensive driving courses. Our drivers also agree to participate in random drug screenings.

For additional information about school bus safety in Kansas, contact the Kansas State Department of Education School Bus Safety Unit at (785) 296‐3551.

Our drivers are an important part of the 405 family. Bus Drivers Appreciation Day may come only once a year but please join others in showing your appreciation for their commitment to serving USD#405 by thanking them whenever you see them throughout the year.