Congratulations to the LHS Boys Basketball team who defeated Kingman last night to move on to round two of SubState
GAME 2 OF SubState Lyons vs Haven
WHEN: Friday, March 5
TIME: 5:30 PM
WHERE: Hesston High School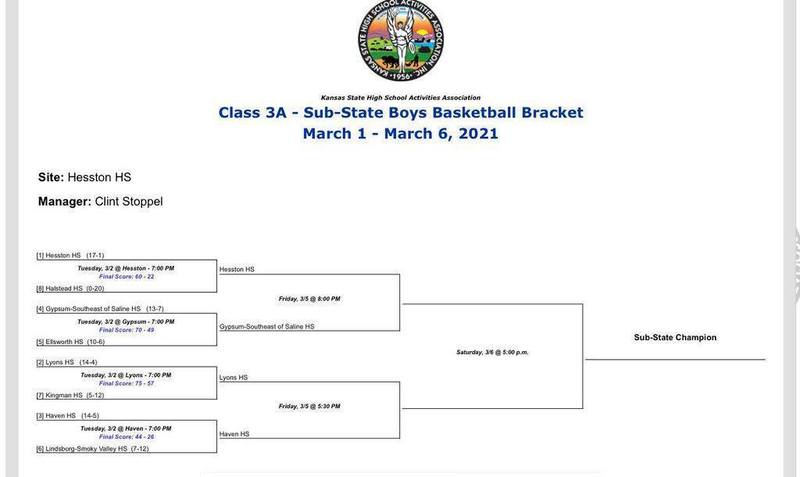 TICKETS: Hesston is using the KSHSAA online ticket sales for all tickets this sub-state week. . This is unique to your school, but is not code protected. Each school will be limited to 250 tickets maximum. Once that limit is reached, it will indicate to your patrons that the limit has been reached and is sold out. Ticket holders will receive their tickets on their smartphones and will need to have them ready to validate at the gate. Our ticket person will have them show their phone to them and then validate the ticket on their phone. We will not be selling any cash tickets at the gate, but if there are still available tickets I will have a QR code available for patrons to purchase their tickets at the gate. I will also attach some videos from GoFan to share with your patrons. Patrons will be allowed into the gym no earlier than 45 minutes before the scheduled game time. The gym will be cleared between games and patrons with tickets for the next game will be allowed in after this has occurred.
How to Buy Tickets https://www.youtube.com/watch?v=tkZqTY5d6Bg&feature=youtu.be
How to Validate Tickets https://www.youtube.com/watch?v=G22NNB8uuXE&feature=youtu.be
Access & Sharing Tickets https://www.youtube.com/watch?v=H0Xhso4QobA&feature=youtu.be
PURCHASE TICKET LINK:
https://gofan.co/app/events/240129
STREAMING: Games will be live-streamed on our youtube channel at:
https://www.youtube.com/channel/UCUDya0YODLcoBeAH5Mzu_0g
COVID considerations: We will designate the bench side of the gym as the visitor section and the opposite side as the home section. All patrons will be required to wear masks when they enter the building. We have designated every other row for seating to maintain distance between seating areas. We ask that family units sit together within the designated areas.
Game 1 - Lyons will have home side seating
Game 2 - Hesston will have home side seating