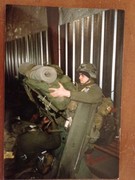 I was born in Whittier, California, where I lived and went to school until I graduated from Lowell High School in 1975. During High School, and after graduating, I worked as a machinist and sheet metal worker for various fabricators throughout the Los Angeles area. In 1977 I packed up my truck, loaded my dog into my truck, and moved to Oklahoma, where I worked in the oil fields until 1984. In 1984 I joined the Army and jumped out of airplanes and hiked through the woods of Alaska for 3 years. After serving honorably in the Army I had the opportunity to teach myself how to weld and became a welder working for various contractors throughout the state of Kansas. During my welding career, I had a strong urge to return to school and become a teacher. I finished my college education at Sterling College with a degree in elementary education and started teaching in 2005. In 2017 I had the opportunity to become the Lyons High School welding teacher and took all of the necessary testings in order to become licensed in vocational education. I have two children, Cole and Alexis. I enjoy teaching because I get to see the excitement on our kids' faces as they learn new things that will help them to become productive citizens of society.
1st Hour: Planning Perion
2nd Hour: Robotics
3rd Hour: Introduction to Welding
4th Hour: Directed Studies
5th Hour: Production Welding 1
6th Hour: Production Welding 2
7th Hour: Robotics
8th Hour: Introduction to Welding
All clothing must be cotton or non-flammable for students' protection. Cotton jeans and a long-sleeved cotton shirt work very well in a shop setting. Safety glasses can be purchased through the office. Welding gloves can be purchased at most hardware stores. Please keep in mind a good leather pair should be purchased to keep the student safe from burns.