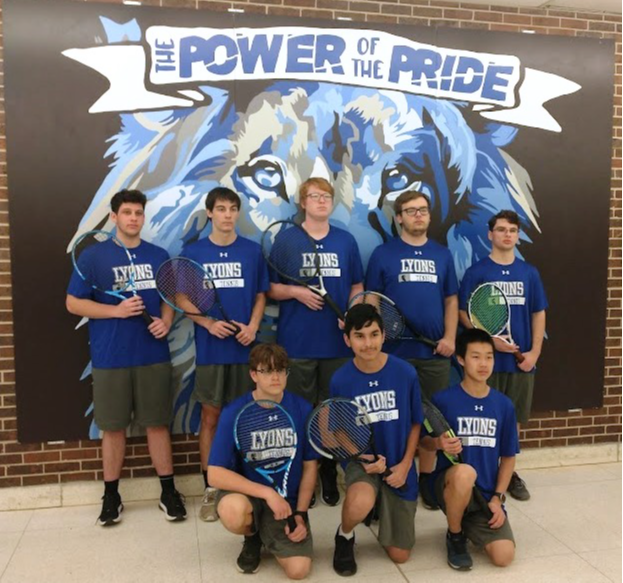 Sam Steele, Victor Escobedo, Amare Campbell, Tabin McDaniel,
Zachary Kottas, Merlin Behnke, Matthew Adams, and Jarrett Smith
DATE AND TIME
JV Tuesday, March 28 @ 3:00 pm
Thursday, March 30 @ 4:00 pm
Tuesday, April 4 @ 4:00 pm
Monday, April 10 @ 4:00 pm
JV Monday, April 11 @ 3:00 pm
Tuesday, April 18 @ 3:00 pm
Monday, April 24 @ 3:00 PM
Monday, May 1 @ 9:00
May 5th and 6th
May 12th and 13th
OPPONENT
Pratt
Ellsworth
Fairfield
Haven
Hoisington
Hillsboro
Hoisington
Hillsboro
Regional Tennis
State Tennis
LOCATION
Pratt
Ellsworth
Lyons
Lyons
Hoisington
Hillsboro
Hoisington
Hillsboro
TBD
TBD
Tennis is a lifetime sport, a good way to get cardio exercise and enjoy those you hit with. For example, Coach Wilson will be over 56 years old during the spring season; and still plays tennis regularly. Coach Wilson played football, basketball, and tennis in high school; and enjoyed them all; but in mid and later life, football and basketball aren't really options for regular exercise. It's never too late (or early) to start (and keep) playing tennis.
If you've never played tennis, now is a great time to give it a try as we are re-starting the program relatively softly with 5 JV meets and 3 varsity meets, so no one should be thrown to the wolves out of the starting gate. Coach Wilson has free rackets available to borrow, so there should be no cost to the season--just student-athletes time and effort.
Several of the boys played Lyons Middle School tennis when they were in 7th and 8th grade, so that will help them know what to expect at meets. But for the players that haven't been thru a tennis meet yet, everything will be new this year. Hopefully, we can make it to the month of May having enjoyed the game of tennis and each other, and look forward to years of tennis to come.
"I'm looking forward to the boys competing to the best of their abilities, and enjoying the game of tennis.
If we focus on the process of getting better, then the results (wins, losses, and satisfaction with our competitiveness) will take care of itself."
Jack Wilson
LHS boys tennis coach, Rule 10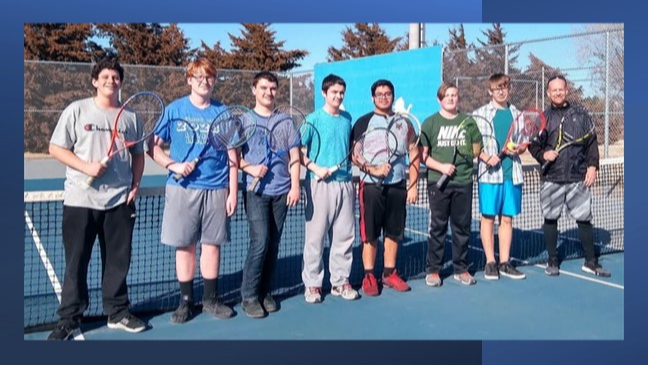 LHS Boys Tennis - March 2020

The USD 405 6-court tennis complex was constructed in 2013 to replace the older courts. It is located North of the Lyons High School next to the Salty Archer softball field with the entrance on Dinsmore Street. Parking is available South of the courts. The courts feature tall chain link fences covered with wind-reducing material on the North and South sides. Bleachers are located at the courts however; spectators may bring their own lawn chairs if desired. The restrooms are located a short talk from the courts in the small building North of the football fields.
The courts have been widely regarded as one of the nicest facilities in central Kansas.
The Lyons community will support and play tennis at this nice facility for years to come.
"If you build it, they will come" so the saying goes.
Brief History of LHS Boys Tennis
1949 - First boys tennis team at LHS
1960 - Lyons High School had a state champion boys doubles team
Lyons High School's Nathan Granger and Bill Palmer won the Kansas Class A doubles championship in 1960.
Roger Caldwell, who was ranked, as one of the top three Class A singles players, qualified for the state also in 1960 per the KSHSAA Website
Might be interesting to know the names of the doubles champions if available in an old yearbook or Lyons News archive.
1967 - Last year Lyons High School offered boys tennis
1968-2020: The dark ages for LHS boys tennis
Lyons Middle School begins offering coed tennis for 7th and 8th graders after many years
2013 - USD 405 bond issue vote passes, which includes a new 6-court tennis complex west of the softball field
This replaced the 3 old courts north of the school.
2020 - LHS boys tennis is restarted, only to be canceled due to COVID
2021 - First completed LHS boys tennis season in over 50 years
Below are tennis teams 1949-1967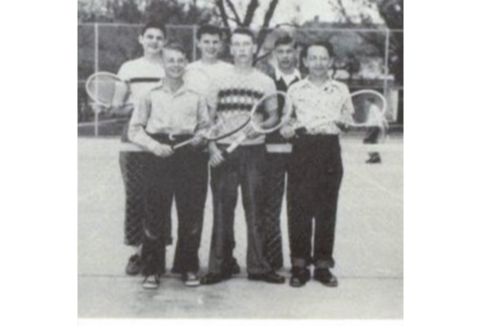 KSHSAA Rule 10 coach
Accepted the position as LHS boys head coach in 2020
(202 season canceled due to COVID after 2 weeks of practice)
2020 assistant coach Fall 2020 for LHS girls
2015-2017 tennis coach at Fairfield High School
2016 assistant girls coach Russell High School
Retired mechanical engineer, 26.5-years in engineering
Sterling High School, then Kansas State University
The 1960 A-B State Champion Lyons High School Boys Tennis Team will be inducted into the Lyons Schools Hall of Fame on April 7.
The team will be recognized at 12:30, prior to the start of the home tennis tournament at the LHS tennis courts. The team included Roger Caldwell, Bill Palmer, Wayne Fraser, John Jones, Nathan Granger, and Byron Welch. Several members plan to be in attendance. The team was coached by Art Baldwin. After a short ceremony at the tennis courts, guests will be invited to join the team in the LHS main hallway for the Hall of Fame unveiling and then in the cafeteria for a reception. The Hall of Fame, sponsored by the USD 405 Education Endowment Association, is a 75" interactive touchscreen display with photos and biographical information on inductees. The Hall of Fame can also be viewed online at https://lyons.touchpros.com/Home9.aspx.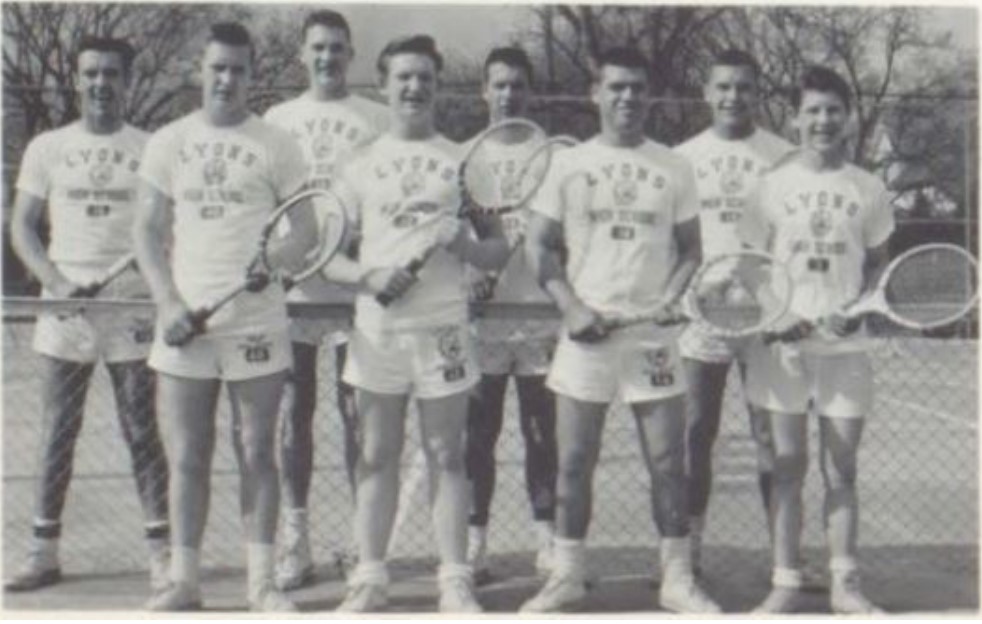 Photo Back Row L:R Nathan Granger, Bob Moody, Roger Caldwell, Bill Palmer. Front Row L:R Wayne Fraser, John Jones, Byron Welch, Wayne Bell.