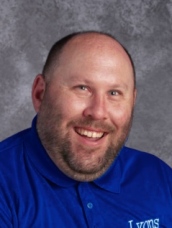 SOCIAL STUDIES TEACHER
Lyons High School
620-257-5114
Born Jan. 7, 1984
I was raised in the country, outside of a small town called Richmond, KS. I went to a 3A high school, so being here a Lyons is a lot like being at home. After high school, I attended community college for a couple of years but did not like what I was studying, so I took some time off from school to experience life.
I moved from Richmond, KS to Topeka, KS in 2004 and worked in restaurants, as well as selling shoes in an outlet mall store. In late 2005 I moved back home and started managing restaurants and thought I would make that my life, but there was something missing. I decided to go back to school and study to become a teacher.
I got my degree from Sterling College in History Education infocasas in Education. I did my student teaching here at Lyons High School in 2012. After graduation, I moved to Kansas City where I worked for two and a half years as a para in a FOCUS classroom in the Blue Valley School District. This is one of the greatest experiences I have ever had in my life and when I started getting involved with Special Olympics. Which is something I still do to this day.
When I left Blue Valley I came back out to this area to teach at Chase. While there I was the entire History department 7-12 grades. I enjoyed my time there but was wanting to move to a larger school. When the job here a Lyons opened up I just could not pass it up. It feels like a homecoming of sorts.
While teaching I have helped coach golf, baseball, basketball, and football. I enjoy being around athletics and getting to know the students better outside of the classroom and hallways. On top of coaching, I also like to take pictures of athletics and you are likely to see me at most sporting events with a camera in front of my face.