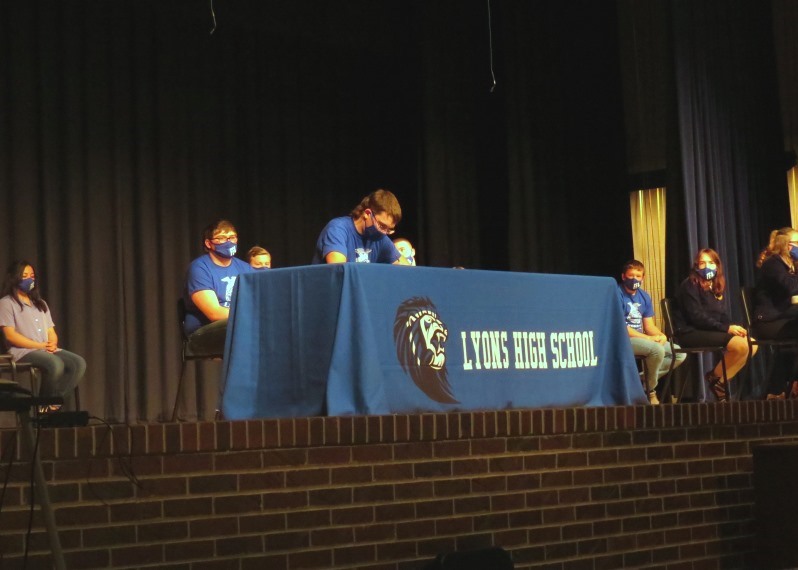 LYONS FFA CHARTER CEREMONY
The Lyons FFA chapter held a chartering ceremony Wednesday, November 18th at 10:00 a.m. Those in attendance were FFA members, alumni/supporters, and families of the FFA members, there were also two Kansas FFA State Officers celebrating virtually.
The charter ceremony started with the Chapter Officers, (Wyatt Showalter, Jaden Jones, Tessa Miller, CJ Revel, and Treven Webb) presenting opening ceremonies. Then the state officers, Hattie Polosn and Bailey Sipes shared about opportunities within the FFA. They also shared that by signing the charter the Lyons FFA Chapter is joining over 9,000 Kansas FFA members in becoming members of the organization. Stone Starbuck recited the FFA creed as members took turns signing the chapter charter. The member that signed the charter are: Juniors, CJ Revel Randy Dixon-Phillips, Jaden Jones, Braiden Schwerdtfeger, Troy Reazin, Tessa Miller, Cooper Stroud, Wyatt Showalter, Sophomores Stone Starbuck, Allyson Dean, Colby Keesling Freshman Treven Webb, Wrikin Scobee Zoe Smith, 8th grade members Vianey Ordonez, Joliette Pennington, Deacon Showalter, Ethan Luck, and Will Miller. Members were excited to become a chartered FFA chapter and look forward to the opportunities FFA will give them.
The Lyons FFA chapter, a member of the South-Central Kansas FFA District was established in the fall of 2020. FFA makes a positive difference in the lives of students by developing their potential for premier leadership, personal growth, and career success through agricultural A). education. To stay up to date about Lyons FFA, return to this section of our site, check out our Facebook, or Instagram pages (Lyons Ag Ed/FFA).