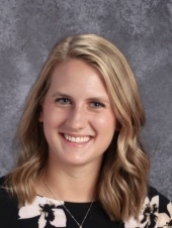 SCHOOL COUNSELOR
Lyons High School
620-257-5114
Meet the Counselor
Hi, my name is Courtney Farmer. I am excited to be the LHS Counselor and can't wait to work with each student, parent, and community member that makes their way through LHS.
I received a B.A. in Psychology from Benedictine College and a M.A. in School Counseling ('20) from Spring Arbor University in Grand Rapids, Michigan. Having been raised in small town Kansas, three years of cold weather and city life was enough to bring me back to my senses and send me running home to Kansas.
I returned with a big (4-year-old) puppy named Nikki, a love for patios in the sun, and a heart for connecting. My hope for my time here is that each student that passes through these halls does so knowing without any doubt that I am in their corner. Please never hesitate to reach out with any concerns.