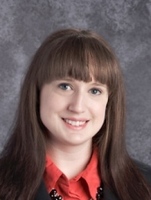 8:15 a.m. to 9:45 a.m.
Third Grade
10:45 a.m. to 12:15 p.m.
Fourth Grade
12:15 p.m. to 1:45 p.m
Lunch/Plan
1:45 p.m. to 3:15 p.m.
Fifth Grade
12:15 p.m. to 1:45 p.m
Best Time to Call
Mrs. Brooks grew up in Topeka, KS and graduated from Topeka High School. Upon graduating, she attended Kansas State University where she earned her Bachelor of Music Education. Mrs. Brooks started her teaching career in 2013 in Solomon, KS where she was the Kindergarten through 6th grade music teacher. She then was a band director in Clay Center, KS from 2014 to 2016, and she has been the music teacher at Central Elementary in Lyons since 2016. Mrs. Brooks is a member of the Kansas Music Educators' Association, Kansas National Educators' Association, National Association for Music Education, American Choral Directors Association, and Kansas Orff Chapter.
As a woodwind specialist, Mrs. Brooks currently performs professionally for various performing groups around the state of Kansas. She has experience as a piccolo/flautist, clarinetist, vocalist, and conductor for several ensembles and groups during her attendance at KSU. Mrs. Brooks enjoys playing woodwinds in the pit orchestra for the Lyons High School musicals, and she currently plays clarinet in the Heart of America Concert Band and plays clarinet in the Salina Municipal Band during the summer.
When she is not teaching, Mrs. Brooks enjoys spending time with her family, sewing, cooking, baking, and writing. She and her husband, D.J., live in Salina with their dog, Ariel.