In today's world, change is difficult, but our USD#405 school counselors will always be here to help.
As we join other school districts across the nation in recognizing the school counselor's vital role in the education system.
Know that USD#405 has four wonderful resources for people to communicate with regarding the mental/emotional needs of your student as well as their student's academic desires.
National School Counseling Week is from February 6th through February 10th.
We recognize the following:
Courtney Farmer at Lyons High School
Christi Reid at Lyons Middle School
Kami Oelke at Central Elementary School
Anna McLain at Park Elementary School
They are available for your students on all learning platforms (Regular Schedule, Hybrid, or Remote). Our mission is to also provide parent resources during these times.
LMS has planned activities for the week.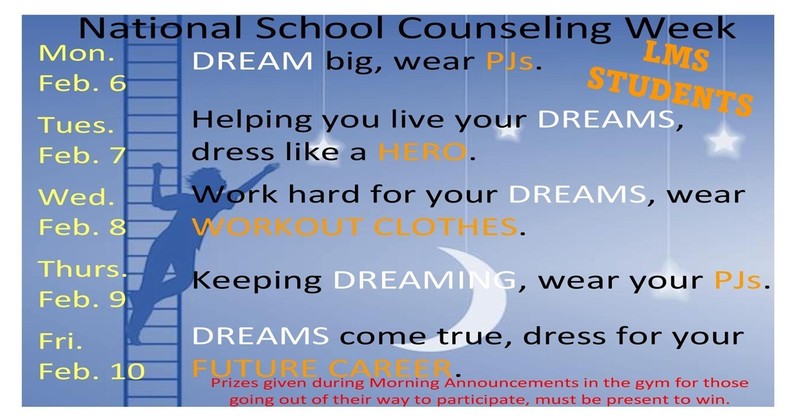 School counselors do not work in isolation; rather they are integral to the total educational program and have a positive impact on student achievement. They help all students to apply academic achievement strategies, manage emotions and apply interpersonal skills, or plan for postsecondary options (higher education, military, workforce) Their proactive program engages students and includes leadership, advocacy, and collaboration with school staff, administration, and community/family members in the delivery of programs and activities to help students achieve success.
School counseling is 100-plus years old. It has evolved, shaped by various economic, social, and educational forces guided by the work of many individuals. In the early 1900s. It was established in schools as a position occupied by administrators and teachers. No organizational structure was provided other than a list of duties. In the 1920s school counseling began to change, shaped by mental hygiene, psychometrics, and child study movements. The American School Counselor Association was established in 1952. It has continued to evolve into the early 21st century with the fourth edition for the development and implementation of school counseling programs across the country known as the ASCA National Model in 2019.
National School Counseling Week is observed from February 6 to 10 this year. It is always observed during the first full week of February. This five-day week takes place every year to bring to the public's notice the priceless contribution of school counselors in the U.S. Sponsored by the American School Counselor Association (A.S.C.A), National School Counseling Week (N.S.C.W.) highlights the significant impact that school counselors have in aiding students during their schooling years, such as assisting with college and scholarship applications, and also their careers.
For more information go to School Counselor
For research on the effectiveness of school counseling programs, go to School Counselor Effectiveness
For more information about the role of the school counselor, go to School Counselor's Role