"I am beyond excited with our season's results, the ways we've represented Lyons around the state of Kansas, and with the future of our band program!"
said Lyons 6-12 Band Director, Andrew Scherer.
I want to recognize the following HS Band students for auditioning Saturday, November 5th, and making the South Central District Honor Band! Three of the five students we brought made it in with one selected as an alternate--this is the most we've had yet! Later in January, the three who earned a full chair will audition to try to earn a spot in the State Honor Band!
Mia Bryant, Junior, 17th Chair Clarinet
Jarrett Smith, Senior, 2nd Chair Tenor Sax
Marianna Boese, Sophomore, 5th Chair French Horn
Gilberto Silva-Paez, Freshman, 2nd Alternate Trombone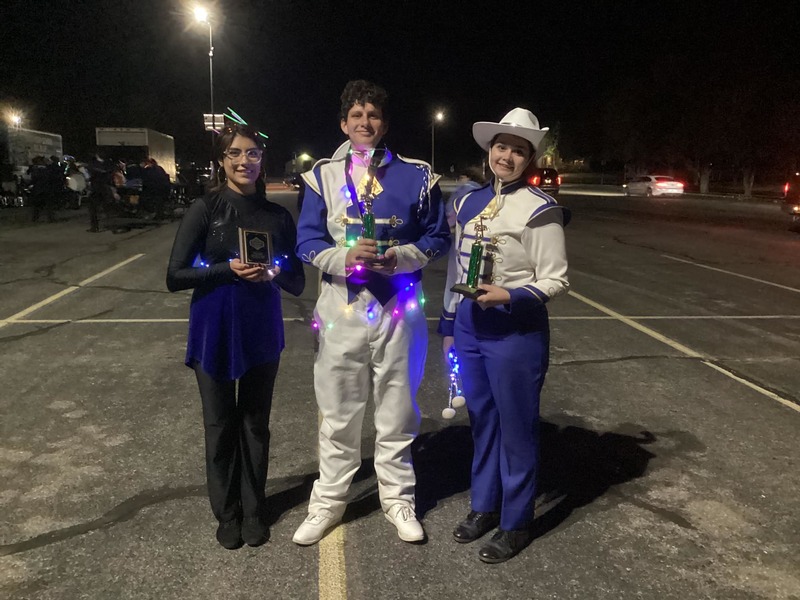 The Pride of Lyons just wrapped up our final marching festival of the year today at Arkalalah, performing in three competitive events and the evening Light Show exhibition! In the field show competition, bands were grouped in classes by band size. Despite being the smallest band in our class up against two larger 4A bands, the Pride earned both Best in Class Percussion AND BEST IN CLASS BAND!! Here are all the results from our very successful day in Ark City!
Indoor Color Guard Competition - Excellent (II)
Arkalalah Parade - Superior (I)
Field Show Competition - Superior (I), Best in Class Percussion, Best in Class Band
What an end to a highly successful 2022 marching season! GO PRIDE!!
With our final marching festival completed, I wanted to give everyone a recap of our 2022 Pride of Lyons Marching Band season with our James Bond show titled, "007." We had 54 members this year with one of those being an 8th grader. For those who don't know, bands are typically evaluated by a panel of three to six judges with various rubrics to measure performances against objective musical and visual standards and are given one of the following ratings: Outstanding/Superior (I), Excellent (II), Good/Average (III), Fair/Poor (IV), Ineffective (V). The State Championship doesn't give ratings; they simply rank bands on points.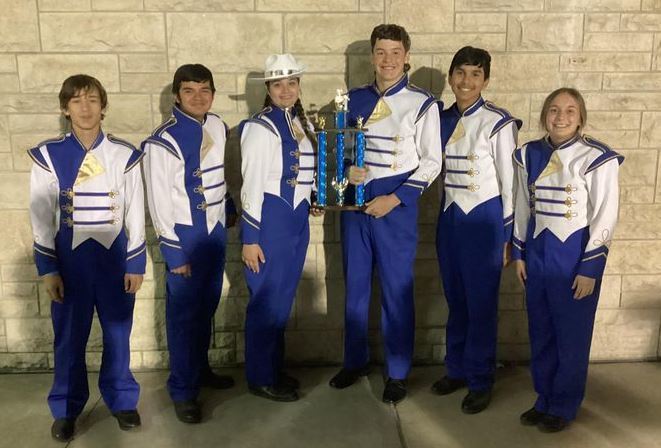 6th place overall in 1234A and we've got the BEST 1234A DRUMLINE IN THE State!!
CONGRATS to these students!!
First, a quick summary of all our rated events to show how incredibly successful we were!
Kansas State Fair:
Parade – Outstanding (I) Rating
Arena Performance – Outstanding (I) Rating
KBA 1234A State Marching Band Championship @ Washburn University:
Preliminary Performance – 5th Place in 3A, top 12 overall
Finals Performance – 6th Place in 1234A, High Percussion in 1234A
Central States Marching Festival @ K-State:
Superior (I) Rating
Arkalalah Festival in Ark City:
Indoor Color Guard Competition – Excellent (II) Rating
Arkalalah Big Parade – Superior (I) Rating
Field Show Competition – Superior (I) Rating, Best in Class Percussion, Best in Class Band
You can find photos and videos of most of these and other performances on our band website and our Lyons Bands Facebook page!
https://sites.google.com/usd405.com/lyonsbands
www.facebook.com/LyonsBands
When you've got the time, here is a more detailed review of our long season for those who are interested or who might not be aware of everything our award-winning marching band does/overcomes and how successful they actually have been!
April 2022 – Students and parents are given the full calendar for the upcoming season and sign marching band commitment forms.
May 2022 – Our drill writer begins to write the first two parts of our show (any drops after this point create holes in the show).
Drumline Camp – July 25-29 (8am-4pm daily)
Band Camp – August 1-5 (8am-4pm daily)
I'd like to highlight Greta Showalter, the 8th grader in our band program, who served as our sole marching cymbals player this year. Though she couldn't be in HS Band class during the school day, she attended all of band camp, completely memorized her music, and nailed her part nearly perfectly at every event she attended with the band this year!
"Regular Season" Performances
Halstead Old Settlers Parade (Aug. 13) – the Saturday after school starts!
Back-to-School BBQ Performance (Aug. 19)
Hoisington Labor Day Parade (Sept. 5)
We received many positive comments from people at both parades while we were there and afterward by email! Most of these comments are praising our uniforms (many bands just wore shorts or jeans and a t-shirt), the precision of marching, and our impressive sound.
KS State Fair Parade (Sept. 14) – Up until this point, freshman Easton Benavidez had been recovering from an injury, unable to attend band camp, and unable to march with us. This was his debut parade performance as one of three bass drum players, and they struggled a bit to change from the 2-bass drum version of the James Bond Theme (our primary parade tune) they'd been performing since band camp. Even so, we were the very first band to perform, and we set the bar high, earning the 2nd highest score of the day out of forty bands with our Outstanding (I) rating!
KS State Fair Arena Performance – This performance is always a bit tricky to rehearse for, and I have to use videos from past performances to show students what the arena looks like and what the routine will be, as we are judged on our entrance and exit. We were the second band to perform in the Arena, earning an Outstanding (I) rating again with the 5th highest scoring of the day out of 24 bands!
Lyons Fair on the Square Performance (Sept. 24) – this was a last-minute addition to our schedule, but we plan to make it a regular performance each year now!
Lyons Homecoming Parade (Sept. 30) – Our band performs so often outside of our community, and this is so important to us as the only chance to show our community our competitive parade routine.
Four Home Football Game Performances - one with the 6th grade band, one with the LHS Alumni Band, and one with the 7/8 Grade Band!
"Post-Season" Performances
KSHSAA only allows bands to perform in up to four evaluative or competitive interscholastic events each season, which includes the State Fair. The following three events are the most important and culminating events of our season. These are the events we've been preparing for since band camp started in late July. These are full-day events, loading as early as 5:30 AM and typically getting back to Lyons around 1:00 AM or later.
KBA 1234A State Marching Band Championship (Oct. 15) – Since marching festival dates are determined largely by collegiate football schedules and they must try to avoid conflicts with other KSHSAA events, the small schools championship is oddly placed near the beginning of our festival series. We took 5th place 3A in Prelims and scored in the top twelve of all bands, sending us to the Finals. In Finals, we were up against both 3A and 4A schools, and we took 6th place and High Percussion. This means our drumline scored higher than any other in the entire competition! There were nineteen schools at this festival (ten 4A and nine 3A), so we scored higher than many schools and bands that are much larger than ours. While we were disappointed to not have scored in the top three bands, we were happy to walk away with a trophy.
Despite missing over 20% of our members today, our band stepped up and delivered a powerful performance at our second marching festival of the year! Congratulations to Carlos Reyes on his fantastic trombone solo and to the rest of the band for earning an outstanding (I) rating!!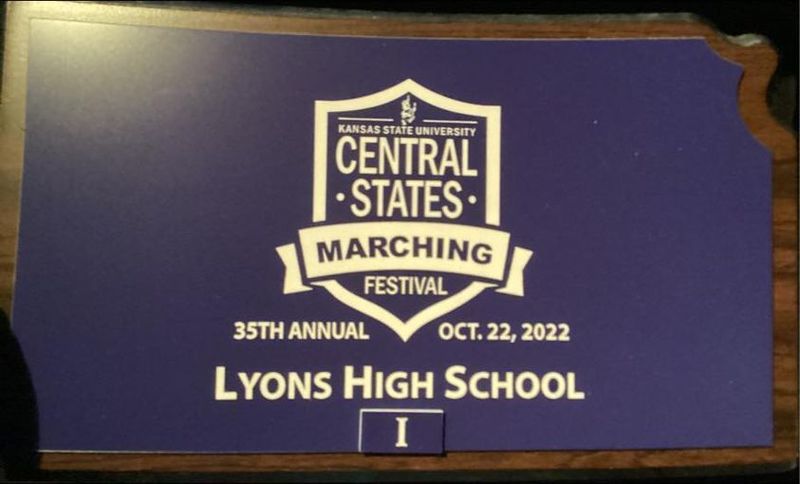 K-State's Central States Marching Festival (Oct. 22) – The date of this festival changes each year based on the NCAA football schedule, but I keep bringing our kids back because it is easily the most educational marching festival available with lots of bands for the students to watch. We started the day with an hour-long clinic in K-State's indoor football facility with a nationally recognized university band director which included sectionals led by K-State Marching Band section leaders. As you can imagine, this is always a major inspirational and educational experience for our students. A few hours later, we performed our show in Bill Snyder Family Stadium for the judges. We were missing 20% of our band due to regional and sub-state athletic events, including several key players such as our auxiliary percussionist (xylophone, bells, suspended cymbal, and gong), one of our lead trumpets, one of our best horn players, several guard members, and the trombone player that auditioned to play an important solo in our third movement. Carlos Reyes, senior and trombone section leader, really stepped up to perform the solo, knocked it out of the park, and we ended up earning a Superior (I) rating from the judges! In the recorded comments, they loved our huge sound, high energy, and fantastic percussion section! After looking through the final ratings of all the bands, I realized that we were the only 3A band there (every other band was from a 4A, 5A, or 6A school)! We were the fifth band to perform that day and the first to receive a I rating, with the four bands before us earning either a II or a III. There were 37 bands at this event, and only 8 of the first 26 bands earned a I. From some perspective, we scored higher than the following large school programs: (5A) Leavenworth, Turner, Shawnee Heights, Bishop Carroll, Salina South, Salina Central, Hutchinson, Andover, and (6A) Wichita South and Wichita Southeast. I am extremely proud of our band's grit and ability to overcome adversity to achieve this level of success without a fifth of our members!
Arkalalah Marching Festival (October 29) – This final marching festival of the season included three rated and ranked events and an evening exhibition mass band light show. At the indoor color guard competition, our guard earned an Excellent (II) rating. Upon receiving the results, I found we were only one point (out of 200) from earning a I rating…so close! And our guard did this with two of their nine members absent!
Later in the afternoon, our band was one of nine schools that marched a mile-long parade that was entirely on a slight incline leading up to the judges—something the students noticed very quickly! Our greatest challenges to overcome was that we were missing our tenor drum player and one bass drum player. The drumline is known as the "battery," and serves as the engine for the band. Within that, the tenor drum part is the melodic heart of all our drumline cadences, and it has extremely crucial parts in the James Bond Theme. Sophomore Deacon Showalter is normally our lead snare drum player, but he stepped up and spent all of last week learning the tenor drum part to the best of his ability, allowing freshman Diego Gamez to take over as lead snare. It wasn't our drumline's best parade performance for sure, but Deacon was attempting to learn in one week what has taken our regular tenor drum player two years to perfect. Considering that, Deacon truly did an outstanding job! And Mallorie Blank and Easton Benavidez did a fantastic job adapting to a new parade version of the James Bond Theme. I was very proud of our band's spirit and presentation, and we were still able to earn a Superior (I) rating, though we didn't score high enough for the top three awards.
For the field show competition, there were nine bands that competed against each other based on band size rather than school size. Not knowing other schools' band sizes, I thought we might be put in Class 1 with 3A Douglass, 3A Chaparral, and maybe 4A Andale. It turns out that Andale has a smaller band than us, so we were placed as the underdog in Class 2 up against 4A Mulvane and 4A Rose Hill, both of which had larger bands than ours. I was a bit worried, knowing that Rose Hill had taken 3rd place overall with High Color Guard at the 1234A State Championship. Additionally, we were missing our auxiliary percussionist again, our alto saxophone section leader (one of only three altos), one clarinet, two guard members, and our tenor drum player (though Deacon somehow memorized the entire field show in one week on tenors, which is beyond impressive)! Our drumline did a good job adapting, with Mallorie Blank memorizing and practicing several important gong hits and Diego Gamez adding in some suspended cymbal rolls in important sections to try to make up for missing our auxiliary percussionist.
In the end, our band left it all on the field, giving an extremely energetic performance and earning yet another Superior (I) rating! Furthermore, we earned Best in Class Percussion AND Best in Class Band, beating both Mulvane and Rose Hill!! This festival also gives large trophies to the top three bands overall, and as expected, all three places were taken by the three Class 3 bands: 6A Enid (1st), 4A Ark City (2nd), and 6A Wichita Northwest (3rd). Though upon reviewing the ratings of all bands, it turns out that we were only 0.65 points away from Wichita Northwest and 3.45 points away from Ark City (out of 100 points)! I have no doubt that with all of our members present, we would have come home with the 2nd Runner-Up trophy (perhaps even 1st Runner-Up)! Still, our band did an outstanding job adapting and overcoming challenges—a trait I teach my students will be invaluable to them throughout their lives.
We finished off the evening with the mass band light show, during which we wore strings of Christmas and fairy lights while the stadium lights were shut off and the participating bands all performed their fight songs, "Hey! Baby!," and "Sweet Caroline." The students had an amazing time, and we couldn't have asked for a better ending to our 2022 season!
I would like to recognize Marquis Scott, Kaylee Brooks, and Chiton Brinson for their hard work throughout the season. Marquis, our PES Music Teacher, helps us out every year during band camp, coming to as many days as possible to help with marching technique/conditioning instruction, clarinet/trumpet rehearsals, and drill instruction. Kaylee, our color guard coach and CES Music Teacher, creates all the color guard choreography and writes the guard's spots in the marching drill. She does a fantastic job coaching the guard during band camp and comes to every performance possible (our Color Guard Captain, senior Anilec Rios, leads the guard in indoor rehearsals during the school year). Chiton is our new band para who just started working with us during the second week of school. He's primarily been focused on rehearsing our percussion students—the section I'm never able to give enough of my focus and attention to—though he helps out in so many more areas than just that. He has made a tremendous difference in our program, and our drumline's success this season is clear evidence of that. Our Drum Major, senior Jarrett Smith, has also done a phenomenal job this season. He takes charge of the band during breathing and music warm-ups in rehearsals and before performances, serves as the head of the student leadership team, leads the band at all parades, and conducts the band at all shows.