Seventy-five years after the end of WWII, Mildred Schindler Janzen, 93 of Ellsworth, KS, finally decided to tell her story. Janzen was a teenager when Russian soldiers invaded their peaceful family farm in the German countryside and changed the course of her life forever.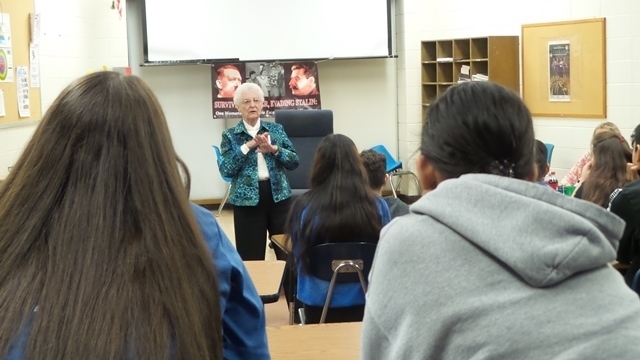 On Tuesday, May 3rd, Mrs. Christi Reid's 7th grade Holocaust class had just finished reading Mrs. Schindler-Janzen's book. They are excited to welcome her for presentations at the middle school. Janzen met with Lyons Middle School students for two question and answer sessions. The students had read Janzen's memoir as part of their classroom work and saved questions for her appearance. The presentations were not open to the public, but the public may now view the presentation on out the school's Facebook page with the link VIDEO.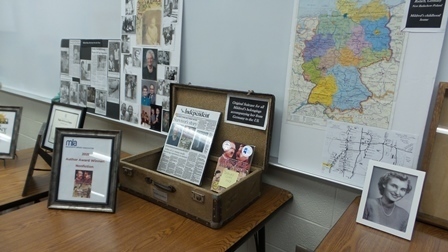 The memoir, published in late 2020 by Sunbury Press, recounts her experiences as a refugee including separating from her family, coming to America alone as a teenager, finding love, and living the good life. The secret to her abundant joy is revealed in Surviving Hitler, Evading Stalin: One Woman's Remarkable Escape from Nazi Germany.
"I wish to leave a testimony for the younger American generation that is coming of age at this present time. Do not ever take the legacy of your birthright for granted. Oppose evil at every opportunity. Speak out against injustice. Most importantly, pay attention in your history class. History can repeat itself; many of my generation bear witness to that fact," Janzen said.
Mississippi writer, Sherye Green, partnered with Janzen to write her riveting memoir. Along with Mildred, Green was named the winner of the 2021 Mississippi Library Association Author Award-Nonfiction for the memoir.
"What a privilege it has been to get to know and to work with Mildred," Green says. "Her story, set against the backdrop of a little-known period of World War II, is an eyewitness testimony to history you will not want to miss."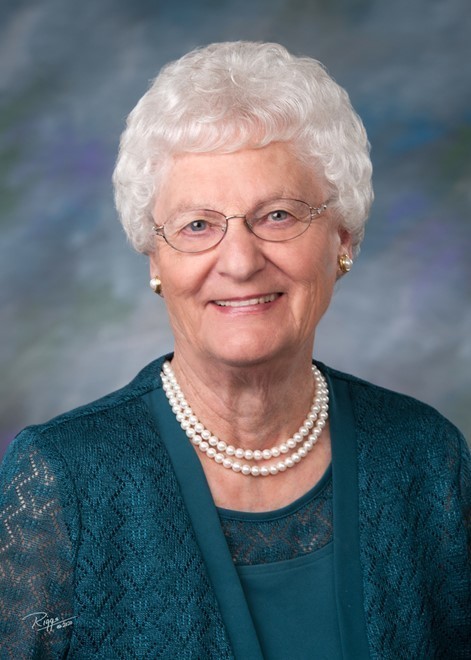 Born in Kansas to German parents, Fritz and Anna Schindler, Mildred returned to Germany as an infant with her parents after they were called back to take over the family farm in Radach.
Their normal farm family life came to an abrupt halt when WWII came knocking at their door, setting in motion a chain of events that would drive them from their home, separate them from each other, and test their survival as refugees in their own land.
After the miraculous survival of her American birth certificate, Mildred was faced with yet another challenge: having to leave her mother and brother to travel, as a teenager, to America to live with relatives and start a new life.
She remained thankful for opportunities afforded her including work in a hospital diet kitchen, attendance in high school where she learned English along with required subjects, and employment at Lorraine State Bank.
During her high school years, in which Mildred was several years older than her classmates, she met and married farmer, Leon Janzen. They had four children: Karen, Kenton, Susan, and Galen. Mildred took a break from working at the bank while the children were young but returned when Galen entered Kindergarten. Mildred and Leon retired in 2005 and were married sixty-six years. Sadly, Leon passed away in 2019.
Mildred is an active senior, enjoying activities at her long-time church—First Baptist Church in nearby Lorraine—and also gardening, exercising, and thanking community friends with home-baked goods.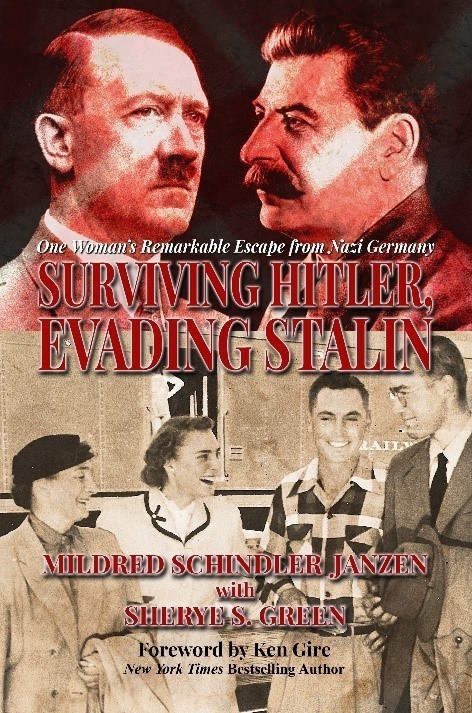 Description: Surviving Hitler, Evading Stalin
One Woman's Remarkable Escape from Nazi Germany
The peaceful farm life of a teenage girl in Germany is abruptly upended when WWII comes knocking at her family's door. One month before her sixteenth birthday, Mildred "Mickchen" Schindler and her family are captured by Russian Soldiers. Having already survived life in Hitler's Nazi Germany, they now face the terror of a new enemy—Stalin's Red Army.
Driven from their home, Mildred and her family become refugees along with a sad, slow-moving caravan of other families who have suffered the same fate. Cleverly disguised by her mother, Mildred avoids being taken to a work camp until one morning when authorities arrive unexpectedly. Her father has already been taken by Russian soldiers, and now she is taken from her mother and brother.
Mildred recounts, in meticulous detail, her treacherous journey and the roller coaster of raw emotions she experiences —fear, regret, loneliness, humility, perseverance, and defiance. Mildred's odyssey of making her way home and finding her family in a war-torn countryside takes many riveting twists and turns. The discovery of a secret, hidden document offers hope for a brighter future.
From harrowing to heartwarming, this memoir provides a unique perspective of a Gentile girl's road to resilience and her fortitude against all odds to forge a life filled with love and laughter.
Surviving Hitler, Evading Stalin is a remarkable testimony to the strength of the unconquerable human spirit and an endearing account of God's faithfulness in the midst of faithless circumstances.
Her memoir, "Surviving Hitler, Evading Stalin: One Woman's Remarkable Escape from Nazi Germany" was published in November 2020 by Sunbury Press. The book has won five awards listed below and Schindler-Janzen was personally awarded the National Medal of Honor by The Daughters of the American Revolution in September of 2021.
2020 Sunbury Press SUNNY Award
2021 MS Library Association Non-fiction
Author Award 2021 American Book Fest - Best Book
Award Finalist: Autobiographies & Memoirs
2021 Sunbury Press SUNNY Award
2022 Illumination Book Award Silver Medal: Biography/Memoir-Inspiration
For more information, please contact:
Susan Nickerson, 785-623-1236, or Sherye Green 601-940-2146.
Author Website: www.sheryesimmonsgreen.com//survivinghitlerevadingstalin
Book Facebook Page: https://www.facebook.com/msjmemoir
Book Order Link: https://www.sunburypress.com/products/surviving-hitler-evading-stalin
Trailer: https://youtu.be/STl5vJ7EGHI