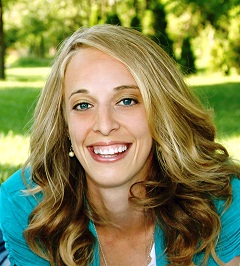 School Psychologist
and
Director of
Rice County Special Services Cooperative
Frisbie Education Center
620-257-5196
As the current Special Education Director of Rice County Special Services Cooperative, I cannot say enough about what a joy it is to work with the people and the children within our county and cooperative.
I grew up in a rural Kansas town, and as the daughter of two educators, I vowed that I would never become a part of the educator community. However, as I became older, I witnessed how rewarding it is to have a career in education. I earned my BS and MS in Psychology from Fort Hays State University and then went on to complete my EdS in School Psychology also from FHSU. Go Tigers!
After working in eastern and western Kansas as a school psychologist, I settled in central Kansas (Lyons) in 2012. My husband and I, and our two children have now lived here for nine years and
greatly enjoy being a part of this community.
In our free time, my family and I enjoy the great outdoors and can often be seen boating on Wilson Lake on warm weekends. And as our children are getting older, we have started the great adventure
of traveling to sporting events, piano lessons, and fishing excursions.
It is my mission to continue to make working for Rice County Special Services Cooperative an enjoyable and rewarding experience by creating a positive working environment and improving the educational and
mental well-being of our students with disabilities.
As the director of special services for Rice County Special Services,
Katie is the administrator of all special education teachers in Rice County as well as specialists and paraeducators. Rice County Special Services Cooperative serves children identified as having a disability and in need of services including, but not limited to, appropriate academic curriculum, speech language therapy,
occupational therapy, physical therapy, hearing and vision specialties, and psychological services in a free public educational setting.