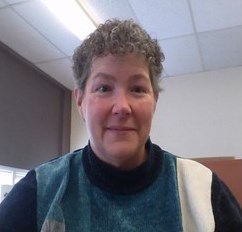 Transition Coordinator
and
Teacher of the Deaf
FEC
620-257-5196, Ext. 138
My name is Gaye Callich. I work for Rice County Special Services Cooperative as the Transition Coordinator and the Teacher of the Deaf. I work with the four school districts within the county. This is my 30th year in education overall. I've worked for Idaho School for the Deaf and Blind, Enid Public Schools, Ralston Public Schools, Barton County Special Services, and for the last two years, here at Rice County Special Services.
My education includes a Masters in Science in Deaf Education from McDaniel College and a Masters in Science in Elementary and Special Education from East Central University. I also have minors in Art and Services to the Deaf (Counseling). There have been numerous audiology, speech, and transition classes over the years to stay as current on education techniques and philosophies.
I work with ages 13-21 in my Transition Coordinator position. I help get and fill out applications for work, set up Vocational Rehabilitation Services, or help with transitioning student to college/vo-tech with Student Support Services. For my TOD position, I work with ages 3-21. I teach sign language, review/reteach academic material, and work the Extended Core Curriculum for Deaf and Hard of Hearing Students in the areas of self-advocacy, assistive technology, social skills, and life skills. I work closely with Kansas School for the Deaf for integration and social skills with other D/HH students around the state.
On a personal note, I am the mother to five fur babies- Phineas, Possum, Patrick, Prissy, and Penelope. Penelope is training to be my hearing ear dog. I love to travel, shop for specific antiques, and hit flea markets. As an Army brat, most of my childhood was in Germany. I've lived in, visited, or stayed in 47 of the 50 states. My goal is to make it all 50 states. I love volunteering and am active in a single's group. I also teach sign language classes at Fort Hays State University and Barton County Community College and do freelance interpreting on the side.