WANT BRAINS? READ A BOOK!
USD #405 Students and Employees: to access the card catalog
choose a correct school from the link above,
library number as the login
and your first name as a password.
Contact your media aide for assistance if needed.
READING INVENTORY STUDENT ACCESS
ACCELERATED READER STUDENT LOGIN
Head Media Aide
Melody Adams
LHS/LMS
Hours:
Daily 7:30 am - 2:45 pm
Media Aide
Kaitln Sullivan
Central Elementary
Hours:
Daily 8:00 am - 3:30 pm
Media Aide
Michele Belden
Park Elementary
Hours:
Tuesdays:
9:25 - 10:40 am
12:25 am - 2:50 pm
Thursdays:
8:10 am - 2:30 pm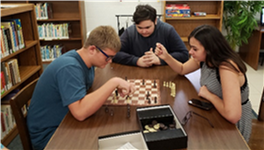 The USD 405 libraries are anything but quiet and sedate. SHHHHH is rarely heard.
At the High school, middle school library Uno and Chess tournaments are played and observed. Teachers and staff sit and discuss changes that are taking place with Gemini II. Coffee and fruit smoothies are served up by Stu-Co representatives in the mornings in a new business venture.
Melody Adams, head media aide, has made the library the "place to be" in the past few years. Changing things up in the media room all the time, keeping staff and students alike coming in to check out activities, new critters, and of course, books. Last, but by far least, books.
New books, old books, blue books, banned books, all adorn the shelves. Students ask for recommendations and are generally surprised that the book handed to them is a great book. Some students are even finding that reading can be fun rather than a forced activity.
All 405 school libraries are looking at new books to stock the shelves and entice readers with. Have you read a great book lately? Let us know!