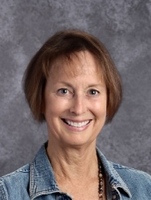 Hello parents! You are your child's most influential teacher with an important part to play in helping your child learn to read! Look for reading tips, websites, and information to help you foster a love for reading with your child!
I am a Reading Recovery/Title 1 teacher at Park Elementary School. I received my Bachelor of Science degree from Kansas State University in Elementary Education. I also earned my Master's degree in Curriculum and Instruction from Kansas State University. I have taught Kindergarten and First Grade in several different states including Kansas, Utah and California. After returning to Lyons, I taught Kindergarten at Central for 3 years and then became a Title 1 teacher at Park. I worked in this position for 8 years and then went through the training to become a Reading Recovery Teacher, and have worked in this position since 2008. When not at school, I enjoy taking family trips, going to K-State football games,and walking with our dog. I currently reside in the country, outside of Lyons, with my husband Kevin, where we enjoyed raising our three children, Megan, Casey and Allie.
Click on these authors to see their websites, and enjoy exploring their wonderful books for children........happy reading!
READING TIPS FOR PARENTS: