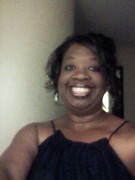 Mrs. Tawanna Berry
Holds a Master's Degree in Education
Teacher of fourteen years
Who lives in Lyons, Ks, married, and has a cocker spaniel named Moe
Who is creative, free spirited, and passionate about teaching
Sister of Ladonna, Byron, and Garrett Todd
Who loves Red Lobster, shopping and Italian food
Who fears God, the dark, and scary movies
Who needs plenty of smiles, laughter, and love
Who feels thrilled for those who succeed,
Who would like to see the Eiffel Tower, visit Hershey Pennsylvania, and return to the Bahamas
My philosophy of teaching children includes the following…
I believe children deserve respect.
I believe children should not be humiliated, hurt, or embarrassed.
I believe a child's self-esteem should be nurtured tenderly.
I believe my job is to teach until a child learns, rather than punish until he/she learns.
I believe modeling is the most powerful way to affect a child's learning.
Morning Session: 8:00-11:15
Afternoon Session 12:00-3:15
Schedule- will be displayed in classroom & on school website under staff page (www.usd405.com)

Parent Newsletter- (Monthly) I will try my best to send home a newsletter to inform you about upcoming events and activities that will take place in the classroom for the month. Newsletter will also be posted on school website as well.

Backpacks- PLEASE CHECK BACKPACKS EVERYDAY!! It is especially important on Fridays. Please help your child keep his or her backpack cleaned out.

Arrival Time- Drop children off at the front door. Bus students are the only ones who use the back door. Kindergartners will wait in the gym at their designated spots.

Dismissal Time: After Labor day, school will dismiss at 3:15 Monday-Thursday and Friday at 2:15

Quiet Time- Please provide a small blanket or beach towel for your child. Each afternoon for 15 minutes your child will have down time to relax.

Snacks- Your child may bring a healthy snack to school. Examples of healthy snacks are: fruit, cheese, cheese sticks, crackers, popcorn, granola bars, and yogurt.

Birthday & Class Celebrations- Due to state health regulations, all treats must be store bought. Parties will be towards the end of the school day around 2:30 Please let me know before hand so that I can plan accordingly.

Library- Students will have library time with the librarian weekly and the students will check out books on Monday, Wednesday, and Friday.

Show and Tell- I will be sending home a sharing bag. Students will need to include 3 clues to say to the class. The class will try to guess what is in the sharing bag. Please do not send toys that represent weapons such as swords, guns, or knives.

Book It! - Book It is a reading program that starts in October and runs through March. An explanation of this program will be sent home at the beginning of October.

Sick Days- If your child will not be at school, please call the office to let us know. If your child has a fever, threw up the night before or the morning of, please do not send him/her to school.

P.E.- Please send your child to school in tennis shoes.

Volunteers- We have a volunteer sign-up sheet for classroom parties.
Please work with your child at home with recognizing letters, giving appropriate sounds, and writing capital/lowercase letters.
1st weeks: Mm, Nn, Ff, Vv, Pp, Bb,
2nd 9 weeks: Aa, Ii, Tt, Dd, Cc, Kk, Uu, Gg,
3rd 9 weeks: Ee, Oo, Ss, Zz, Jj, Ll, Rr, & long vowel sounds
4th 9 weeks: Ww, Hh, Yy, th, sh, ch,
ACTIVITIES THAT YOU CAN DO AT HOME TO PROMOTE LEARNING
Make letters out of play-dough
Trace letters in salt
Form letters using pasta, stickers, toothpicks, pretzels, buttons, pipe cleaners etc.
Rainbow write letters using markers, crayons, colored pencils, and paint
Dry erase markers/ board (can be purchased at Dollar General, Dollar Tree, or Shopko) Spy letters and sounds around the house, driving in the car, in books, and at the store
Dear Parents,
Please work with your child at home reading and spelling the kindergarten sight words listed below. A new list will be introduced each 9 weeks and a test will be given over each list that is covered at the end of each 9 weeks as well.
List 1: the in of and to a I
List 2: you is it he was I that
List 3: are as on for with his
List 4: this they be at have from