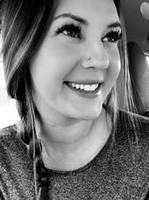 8th Grade English Teacher
Lyons Middle School
620-257-3961
A NOTE FROM MRS. MARTINEZ...
Hello! My name is Katie Martinez and I teach 8th Grade English at Lyons Middle School. I come to Kansas as a former resident of North Texas where I lived and graduated high school in the small town of Whitesboro, TX. After school, I attended Texas Woman's University where I received my Bachelor of Science in Interdisciplinary Studies. I currently reside in Lyons with my two cats, Myles and Fitzgerald. I enjoy reading, writing, and playing around with photography. #GoCowboys
I currently am an assistant coach for middle school volleyball, an assistant coach for high school cheerleading, as well as a member of our building site council. I was also a 2018 Horizon Award winner through the Kansas State Department of Education.
Teaching has always been a huge passion of mine and middle school is where I am meant to be. I enjoy teaching students not only the academic part of learning but also watching them learn to problem solve, communicate, and mold into respectful, caring individuals. I learn from my students just as much as they learn from me, and I love the fact that each day is different and comes with different obstacles and responsibilities.
My goal is that when students leave my classroom, they are one step closer to becoming a well-rounded person; ready to handle any of the challenges they may encounter.