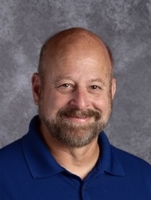 Math Teacher
Lyons Middle School
620-257-3961
A NOTE FROM MR. RAUSCH...
This is my 38th year of teaching. I began in Utica, Kansas (NesTreLaGo) in 1981. I married Tammy in 1982 and we moved to Larned, where I taught 6-8 Math and Science, coached Middle School Football, Boys Basketball and Girls Track in Pawnee Rock, Kansas. After two years I was asked to become Acting Principal of Sacred Heart Elementary in Larned, Kansas. I was principal, 6-8 Math and Science Instructor and Athletic Director. In 1988 I began teaching and coaching in the St. John-Hudson School District. I taught Middle School Math and Science, Biology and Physical Science. My coaching duties included High School Volleyball, High School Girls Basketball, and Boys and Girls Middle School Track. I enjoyed twenty years in St. John and was fortunate to coach my three daughters, Kimberlee, Katie, and Keri in all three sports. In 2008 I became the Director of Student Services in the Pratt School District as well as High School Volleyball and Girls Basketball coach. In 2013 Tammy and I moved to Independence, Missouri and worked for the Independence School District. Two of our daughters had moved to the Kansas City area and their superintendent, Dr. Dale Herl was a close friend and highly persuasive! My position included Counselor and Building Administrator for the district's online credit-recovery program. In those five years, opportunities took our daughters to other parts of the country. We missed being around family and our native Kansas and when an opportunity in Lyons opened up, we moved back to an area and a town we want to be a part of as long as we can! We have five-grandchildren, Sloan and Forrest (Kim and Nick Sheahon), Zachary and Adelyn (Katie and Jesse Herrman), and Rosalyn (Keri and Zach Collett). I continue to coach and really enjoyed my first year as the High School Volleyball and Middle School Girls Basketball coach as well as having a blast being back in the classroom teaching Science!
Be Respectful.

Give your BEST effort at all times!