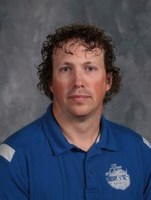 Math Teacher
Lyons Middle School
257-3961 x 252
USEFUL LINKS
Dan Reazin graduated from Lyons High School in 1999. He then went on to graduate from Kansas State University with a degree in Elementary Education with an endorsement in Middle-Level Education. Since then, he has also received an endorsement for teaching English Language Learners.
Mr. Reazin started teaching at Lyons Middle School in 2005. He teaches primarily 8th-grade math classes, however, over the course of his teaching career he has also taught 7th-grade math, technology, and P.E.
Be on time.

Bring all required materials.

Be respectful.
1" 3-ring notebook

loose-leaf notebook paper

one box Kleenex per year

Optional: calculator (TI 30XS Multi-view preferred)
8th Graders in Computer/Tech class have several things they'll do throughout the semester. We start the semester with a unit on spreadsheets, including work in MS Excel, Google Sheets, and an activity where we play "Lions Cafe," a lemonade stand game. We use this game to gather data and then use a spreadsheet to summarize the data and make some graphs. We follow up the Excel section of the class with some Access database work and end with a little beginning coding.