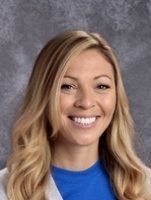 English Teacher
Lyons Middle School
620-257-3961
My name is Chelsea Hansen. I joined LMS in 2018 and truly love being a part of this school! I come from the faraway land of Mulvane, Kansas. After high school, I attended Emporia State University (Go Hornets!)
After completing my degree, I decided that I wanted to travel! I studied in London, then traveled around Europe. I taught at an orphanage school in Africa, and then worked onboard Royal Caribbean cruise ships around the world. After ship-life, I taught at a private preparatory school in China and, most recently, served as an English language tutor in Chile.
Finally, much to my family's relief, I came back to Kansas for good. My husband and I got married in June of 2018, and I moved to Sterling, Kansas. My husband is a football coach for Sterling College, so my fall weekends are spent cheering for the Warriors! We have 2 dogs: Indiana Jones (Indy) and Short Round (Shorty). They're ornery and wonderful.
I've always had a passion for literature and working with children and am grateful to be a part of this LMS family!