VARGAS WINS RUDD SCHOLARSHIP

Cuando naces en un mundo en el que no encajas, es porque naciste para ayudar a crear uno nuevo.
Seneca  
   On the shortness of life
When you are born into a world where you don't fit in, it's because you were born to help create a new one
Seneca  
   On the shortness of life
For most people, the fear of not fitting in or being different holds them back, but for people like Karime Vargas, it's what sets them one step ahead of the crowd. Starting elementary school as an ESL student, whose primary language was Spanish, Karime quickly found herself immersed in a whole new world with different sounds and different customs. Instead of allowing this to hold her back, she took the experience to make her better. From the start she had to work harder than her peers to simply understand the language barriers between home and school. At times this was both frustrating and confusing, but she never gave up; instead she let it motivate her to do more and learn more. Throughout her education at Lyons, Karime emerged as a leader in the classroom, athletics, her church, and the community. She not only helped establish a math tutoring program for struggling students, but also has been vital in creating an outreach program which bridges the barriers between the ESL community and the school. Her innate desire to help others shines in her bubbly willingness to help others find the resources she often wished she had. This grit and perseverance created a young woman with superior work ethic and determination, which is exactly why she was so graciously awarded the prestigious Rudd Foundation Scholarship. Lyons teacher, Lita Zimmerman said, "Working with Karime has been one of the most rewarding gifts I have received as a teacher, because not only is she a student who always strives to do more with what she is given, but it's not often as a teacher you get to see the immediate results of your labor. Learning Karime received the award was an extremely rewarding and emotional experience."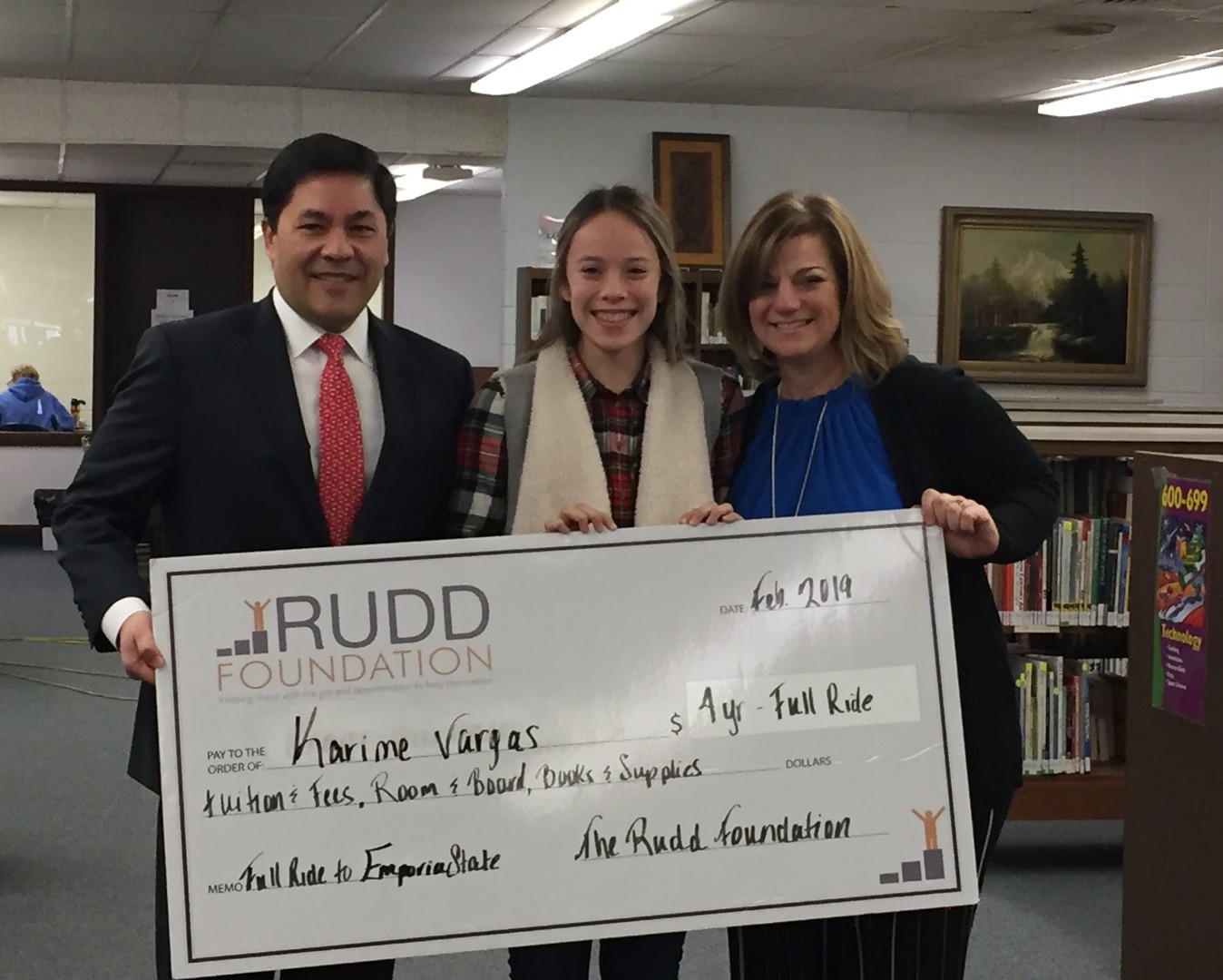 The Rudd Scholarship is a competitive, 4-year award, which pays costs associated with tuition and fees, books, supplies, and room and board after accounting for all other grants, scholarships and financial awards. It is awarded to Kansas residents who have achieved academically, possess grit, a strong work ethic, determination and show the capacity to achieve long term goals. The Rudd Scholarship is valued at nearly $60,000. Over 900 students initially applied, and the group was narrowed to 50. Those 50 were then put through a rigorous interview process. Karime was one of 25 chosen to be this year's 2019 Rudd Scholar.
Scholars must maintain a 3.0 grade point average and be on pace to graduate college in 4 years. Scholars must also live on campus, join learning communities, be an active member of the Rudd Scholarship program, as well as participate in other extra-curricular activities. Karime is the daughter of Veronica Alvidrez and Joseluis Vargas. While at Lyons High School, Karime was a Kansas Honor Scholar, Student Council Officer, Officer of National Honor's Society, 4-year letter winner in volleyball, basketball, and track, as well as an active member of the Catholic Youth Ministry and a Parish School of Religion Teacher. Karime will be attending Emporia State University in the fall and is planning on going into the medical field or becoming a teacher.
The Lyons School District is extremely grateful for the Rudd Foundation. Not only is the scholarship extremely generous in the financial portion of the award, but there is also a wonderful opportunity for Karime to be included with and learn from the amazing leaders involved in the Rudd Foundation. Their own love and dedication to the cause exhibit their desire to see every student be successful! Lyons teacher and coach, BJ Smith said, "Having worked with Karime over the last several years, I can't think of anyone who would be more deserving of this generous award. The Rudd foundation made a great choice in picking Karime because not only is she extremely dedicated, but she is also someone who will be an excellent representative of all the Rudd Foundation stands for and will be someone who will one day pay it forward and help others like her."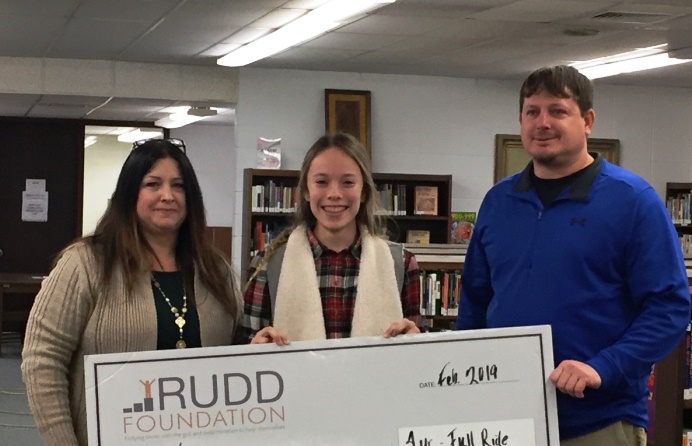 When asked about her award, Karime said, "I feel so grateful to have this opportunity that will help me help others. I'm thankful for my two mentors, BJ Smith and Lita Zimmerman for helping me with the process and supporting me."
About the Rudd Foundation
Leslie Rudd established the Rudd Foundation in 1998 as a way to honor the Midwestern values that strengthen character and lead to a lifetime of success in business, community, and family. The Foundation gives back in meaningful ways to help both people and organizations who possess the initiative, determination, and capacity to achieve their goals and thereby make a positive impact for those around them.
"In just two more years we will have nearly 100 Rudd Scholars on campus learning from one another," said Peter Najera, President of the Rudd Foundation, "and a few years after that they will all be networking with one another throughout the state as they continue on their trajectory of being positive contributors to our Kansas communities and society as a whole."
About the Rudd Scholarship
"We couldn't be more pleased with the exceptionally high-caliber, well-rounded students that were chosen for this year's Rudd Scholarship," said Peter Najera, President of the Rudd Foundation. "We expect them to maintain their grades and graduate in 4 years and in return they will earn their degree debt free."
The scholarship aspires to help Kansas minds stay in Kansas. "We hope graduates of this program will go on to build new businesses here in Kansas, teach in our schools, lead in our communities and achieve excellence in all that they do right here in Kansas," said Najera. In addition to carrying a full load of classes towards their degree, scholars will also participate in many developmental activities outside the classroom, network with leaders in their future professions, build strong relationships among themselves, and serve to help the next generation of scholars through an active and connected alumni association after graduation.
"This scholarship program is firmly rooted in the Midwestern values of humility, grit, hard work, and integrity that make Kansas and its people great," said Peter Najera, "We are searching for some real go-getters."
The Rudd Scholarship is a renewable, 4-year program that covers any remaining cost of attendance after all other aid, grants, and scholarships are applied to a student's account. Cost of attendance includes tuition and fees, books and supplies, and room and board. By removing financial barriers to a college education, chosen scholars are expected to achieve a high level of excellence on campus in preparing themselves to be leaders in their profession and in their communities after graduation.
This year, 15 students will be going to Wichita State, 5 will attend Emporia State, and 5 will take their scholarship to Fort Hays State. The Rudd Scholarship is earned through a competitive selection process that requires grades, test scores, essays, letters of recommendation, and for the 50 semifinalists a personal interview. The process opened in the Fall and drew hundreds of applications from all four corners of the state. The expected value for all 25 winners over four years is $1.4million. Winners of these scholarships were announced on March 19 and listed below.
"Kansas high schools continue to produce very talented young men and women imbued with the Midwestern values of grit, determination and work ethic and we are excited to make an investment in them through a college education," said Najera. "These 25 recipients, in addition to the 19 previously selected, brings us to a total of 44 Rudd Scholars in college who will continue to support each other as they are groomed to strengthen the talent pipeline here in Kansas upon graduation."
More information can be found online at www.ruddfoundation.org, Twitter (@RuddFoundation), Instagram (@ruddfoundation), Facebook (@RuddFoundation) or LinkedIn (https://www.linkedin.com/company/rudd-foundation/).
Students must apply online at www.ruddfoundation.org/college-scholarships where you can also learn more about the eligibility requirements and selection criteria.
2019 Rudd Scholarship Winners
Name, High School, University
Wyatt Abell, Oakley High School, Wichita State University
Darbee Chard, Chanute High School, Wichita State University
Wendy De Loera, Wichita East High School, Wichita State University
Storm Dial, Emporia High School, Wichita State University
Gage Farney, Sterling High School, Fort Hays State University
Brady Flesner, Medicine Lodge Jr/Sr High School, Wichita State University
Julie Gonzalez-Morales, Sumner Academy of Arts and Science, Wichita State University
Rafael Granillo, Moscow High School, Emporia State University
Aundrea Haberer, Sylvan-Lucas Unified High School, Fort Hays State University
Ayanna Hensley, Dodge City High School, Fort Hays State University
Maria Jimenez, Yates Center High School, Wichita State University
Brooke Keith, Meade High School, Wichita State University
Cali Keith, Meade High School, Wichita State University
Codi Kentner, Quinter High School, Wichita State University
Kennedi Meiers, West Franklin High School, Wichita State University
Ronald Michel, Wichita County Jr/Sr High School, Wichita State University
Angel Mong, Wheatland High School, Fort Hays State University
David Nevarez-Saenz, Sumner Academy of Arts and Science, Wichita State University
Abigail Noyes, Seaman High School, Emporia State University
Lauren O'Donnell, Blue Valley High School, Wichita State University
Abbygail Rowden, Canton-Galva High School, Emporia State University
Karime Vargas, Lyons High School, Emporia State University
Trinity Wagner, Beloit Jr-Sr High School, Fort Hays State University
Ian Weaver, Hesston High School, Wichita State University
Johnathan Young, Paola High School, Emporia State University